Democrats Gomez, Ahn Top Two in California Special Election; Will Meet in June Runoff
By 270toWin Staff
April 5, 2017
Democrats Jimmy Gomez and Robert Lee Ahn were the top two vote getters in the April 4th special election in California's 34th congressional district. In the field of 24 candidates, Gomez received 28% of the vote, while Ahn saw 19% support. As neither received a majority of the vote, these two will meet in a runoff on June 6th.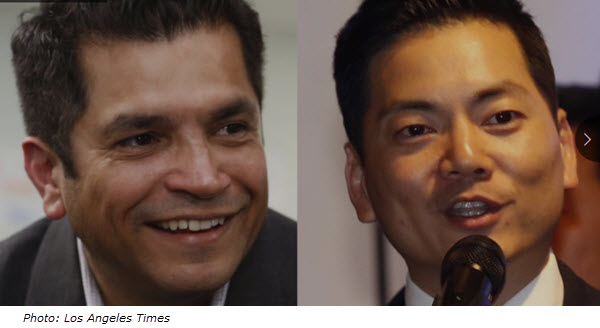 This is a deep-blue district, with almost 90% of the votes cast for one of the many Democrats running. Therefore, it is no surprise that the top two vote getters were from that party. Gomez was endorsed by Xavier Becerra, the district's previous representative. Becerra resigned the seat in January, after being confirmed as California's Attorney General.
There are currently five vacancies in the U.S. House. Four other special elections are scheduled in the weeks ahead. All are seats previously held by Republicans. Two of those (KS-04 and SC-05) will almost certainly remain in Republican control, Montana's at-large district is likely to stay 'red' as well. The fourth seat, for Georgia's 6th congressional district, is shaping up as a very competitive race.
comments powered by

Disqus
Headlines