Poll: Democrat Ossoff Leads Election to Replace Price; Expected Runoff is Competitive
By 270toWin Staff
March 27, 2017
Democrat Jon Ossoff leads a large field looking to replace Tom Price as congressional representative from Georgia's 6th congressional district, according to a recent poll conducted by Opinion Savvy. Ossoff received 40% support in the poll, double that of his nearest challenger, Republican Karen Handel. Candidates from all parties will participate on a single ballot in the April 18th 'jungle primary', with the top two advancing to a runoff on June 20th, assuming no single candidate achieves 50% support.
The Democratic Party has rallied around Ossoff, a filmmaker and former congressional aide who has never held political office. The Republican field is led by former Ga. Secretary of State Karen Handel. Other Republicans receiving significant support include Johns Creek City Councilman Bob Gray, and former State Senators Judson Hill and Dan Moody.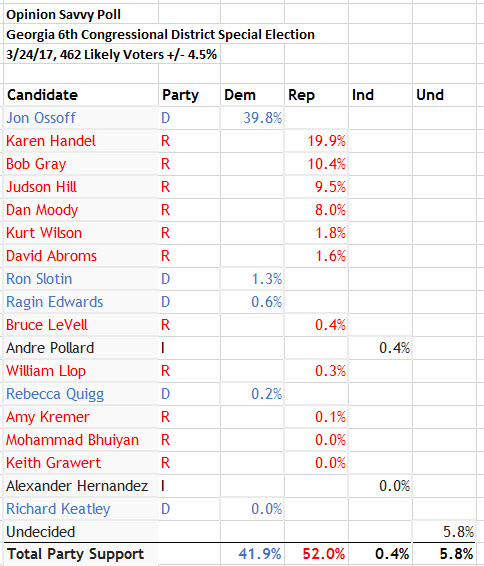 If this poll is reasonably accurate, Ossoff will meet one of the aforementioned Republicans in the top-two runoff on June 20th. Opinion Savvy also tested Ossoff head-head vs. each of these four Republicans; all results showed a competitive race well within the margin of error. Both parties are investing heavily in the race as it is being seen as an early proxy for the policies of Donald Trump.
No Democrat has held this seat since 1979. Former Rep. Price, now Secretary of Health & Human Services, won re-election here this past November with 62% of the vote. However, Mr. Trump only defeated Hillary Clinton by 2% in the district.

comments powered by

Disqus
Headlines