Carson and Perry Confirmed, Join Trump Cabinet
By 270toWin Staff
March 3, 2017
Dr. Ben Carson and former Texas governor Rick Perry joined the Trump Cabinet yesterday after being confirmed by the U.S. Senate. 13 of Trump's 15 Cabinet picks have now been confirmed, along with four of five cabinet-rank officials, as shown in the graphic below, courtesy of Axios: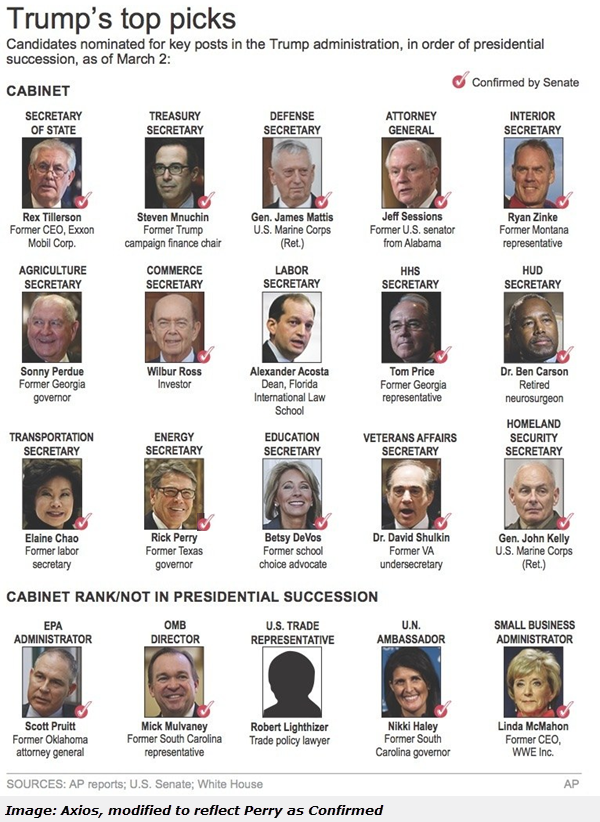 Former Georgia governor Sonny Perdue is awaiting a hearing, as is former Bush administration official Alexander Acosta. Mr. Acosta is Trump's second choice at Labor, after Andrew Puzder dropped out. Both selections are expected to win confirmation.
The Cabinet part of the table is ordered (left to right, by row) in order of presidential succession. Preceding Secretary of State Rex Tillerson would be Vice President Mike Pence, Speaker of the House Paul Ryan, and President pro tempore of the Senate Orrin Hatch. If Designated Survivor were real-world, Ben Carson would be President of the United States.
comments powered by

Disqus
Headlines