Proposed Constitutional Amendment: Apportionment Based on Citizenship
By 270toWin Staff
February 13, 2017
As reported by GovTrack, Iowa Republican Rep. Steve King has introduced a Joint Resolution for a proposed constitutional amendment that would apportion congressional districts based on the number of U.S. citizens in each state. Currently, this apportionment is determined by the number of residents* of each state, as calculated in each Census.
This is not the first time such an amendment has been proposed. While it is highly unlikely that the current proposal will get anywhere, we were curious how the electoral map would shift if it was only based on citizens.**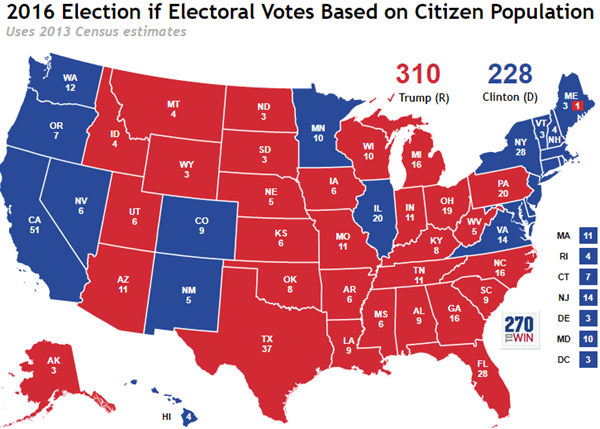 This report estimates the number of U.S. citizens in each state as of 2013, and uses those totals to calculate the number of congressional districts for each state. Somewhat surprisingly, only 11 states would be impacted. The big loser would be California, which would see 4 of its 55 electoral votes trimmed away. No other state was impacted by more than one electoral vote. FL, NY and TX would lose one each, while seven states (LA, MO, MT, NC, OH, OK, VA) would gain one.
In terms of states won in the 2016 election, Donald Trump would have won 4 additional electoral votes, giving him 310. Faithless Electors were excluded.
* Also included are overseas military and civilian federal employee population and their dependents living with them. In most states, this is well under 1% of the resident population.
** Each state receives electoral votes equal to its congressional delegation. That includes two U.S. Senators and one for each congressional district. Changing how congressional districts are allocated would therefore change the distribution of electoral votes.
comments powered by

Disqus
Headlines