February 7, 2017
We've updated our Gaming the Electoral College feature to show how different allocation methodologies would have played out had they been in place for the 2016 presidential election. The chart below summarizes the results for 2016 and compares them to 2012.

While all the alternative methods benefited Mitt Romney in 2012, they would have negatively impacted Donald Trump's results in 2016. That said, he would still have won the electoral vote, albeit with a smaller margin over Hillary Clinton, in most of these scenarios. The reason is that the winner take all method is much more volatile than the ones involving congressional districts or the popular vote.
Only a small number of the 435 congressional districts are battlegrounds. While voting for one party in a House election doesn't guarantee a similar vote for president, it happens most of the time. In 2016, only 23 districts that voted for a Republican in the House voted for Hillary Clinton. Just 12 voted for a Democrat and Donald Trump. The net effect is that absent a change election that sweeps through the House, the congressional method will yield roughly the same result each time. We see that in 2016 vs. 2012, where Donald Trump had 100 more electoral votes than Mitt Romney, but the difference was only 16 using the method currently used by Maine and Nebraska.
Allocating by popular vote will also yield a close electoral map, absent a landslide. This was especially true in 2016, when Clinton won the popular vote. Trump still comes out ahead in these two options (although doesn't reach 270 if there are no electoral votes separately allocated to the state winner, as the map below shows). This is because we are still looking at each state as an individual contest. The proportional popular vote methods also make it easier for 3rd party candidates to secure electoral votes.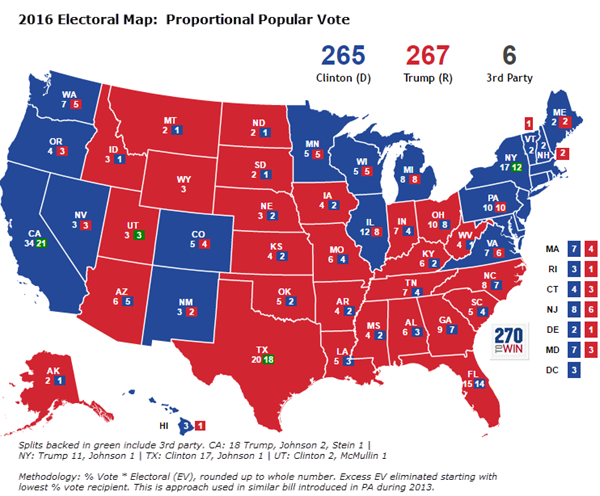 comments powered by

Disqus
Headlines