2018 Senate Map Launched; Democrats Defending 25 of 33 Seats
By 270toWin Staff
January 31, 2017
Our first pass at the 2018 Senate Interactive Map is now live. This three-way map lets you look at the current composition of the Senate, make a forecast for the 33 races scheduled for 2018, and then see the new (2019) Senate based on those predictions.
After gaining two Senate seats in the 2016 election, Democrats currently hold 48 seats (including two independents). The party will need to gain an additional three seats in 2018 to wrest control from the Republicans. That will be a tall order as 25 of the 33 seats to be contested in 2018 are currently held by the blue team.
We've included three 'Starting Views'. Two of those are initial ratings from The Cook Political Report and Inside Elections (formerly The Rothenberg & Gonzales Report). We've also included a composite battleground map that shows as competitive any race rated toss-up or leaning by one of the above-mentioned forecasters.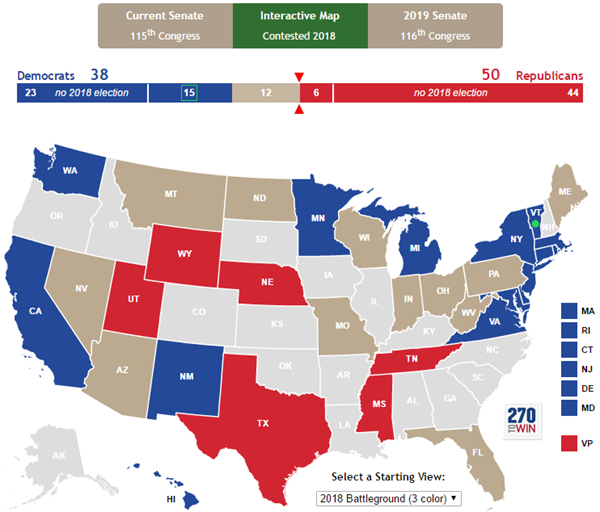 If Jeff Sessions is confirmed as Attorney General, Alabama Governor Robert Bentley would appoint a replacement for Sessions until a special election is held. That election will most likely coincide with the 2018 general election. Assuming it plays out that way, we will add the Alabama race to the map. The winner of the special election would face re-election in 2020, the next regularly scheduled election for that seat.
comments powered by

Disqus
Headlines