First Look: Projected 2024 Electoral Vote Allocation
By 270toWin Staff
January 12, 2017
It's a long way off, but we've utilized a recent report from Election Data Services to take a look at how the electoral map may shift after the 2020 Census. We've illustrated it using state winners from the 2016 election, but the map is interactive allowing you to make your own projections. The new electoral map, however it ultimately looks, will be in effect beginning with the 2024 election.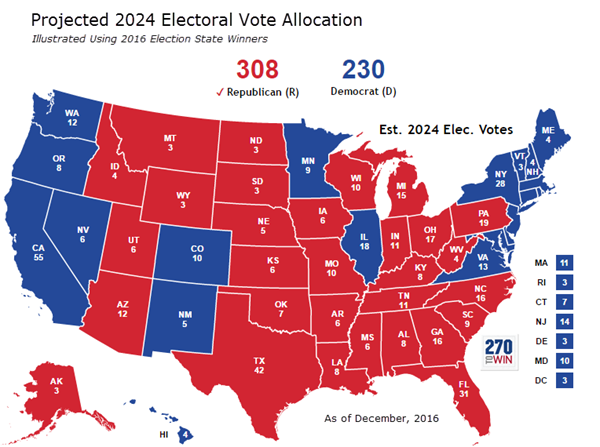 Texas is projected to be the big winner, gaining 4 electoral votes on top of the 4 it gained after the 2010 Census. While Texas has voted Republican since 1976, 2016's margin of victory was the smallest there since 1996. If demographic or other trends make the state even remotely competitive, this will be one of the major battlegrounds of the next decade.
A perennial swing state, Florida, is projected to gain 2 electoral votes, surpassing New York (both have 29 electoral votes today). The Sunshine State has gained at least 2 in every decade since the 1950s. By contrast, in 1948, the New York had 47 electoral votes to just 8 in Florida.
Arizona, Colorado, North Carolina and Oregon are on track to also gain an electoral vote. Since this is a zero-sum game, the 10 votes gained by these 6 states have to come from somehwere. At this point, Illinois looks to lose 2 electoral votes, while 8 other states (Alabama, Michigan, Minnesota, New York, Ohio, Pennsylvania, Rhode Island, and West Virginia) set to lose 1 each.
After each Census, there is a reapportionment of the fixed 435 congressional districts based on relative shifts in population. As each state's electoral votes equals the size of its Congressional delegation (Number of Districts + 2 Senators), the shift in electoral vote is equal to the change in a state's congressional districts. As noted above, Rhode Island could lose a seat. This would give them a single district for the first time ever. We could find only two other instances (South Dakota and Vermont) of a state moving to a single district after previously having two or more.
comments powered by

Disqus
Headlines