December 11, 2016
As expected, Republican State Treasurer John Kennedy won the Louisiana Senate runoff Saturday, defeating Democrat Foster Campbell by over 20 points.

Democrats gained two seats in the 2016 elections, but the party was unable to wrest control of the body from the Republicans. It was a missed opportunity for 'Team Blue', as 24 of the 34 seats up in 2016 were held by Republicans. The situation is reversed in 2018, with 25 of the 33 races that year held by the Democrats. Playing that much defense, it will be very difficult for the party to make gains.
The new Senate will be comprised of 52 Republicans, 48 Democrats. Republicans have both seats in 20 states, Democrats in 18 states. There is a split in 12 states. Mike Pence will become president of the Senate on January 20th, giving Republicans the advantage in any tie votes.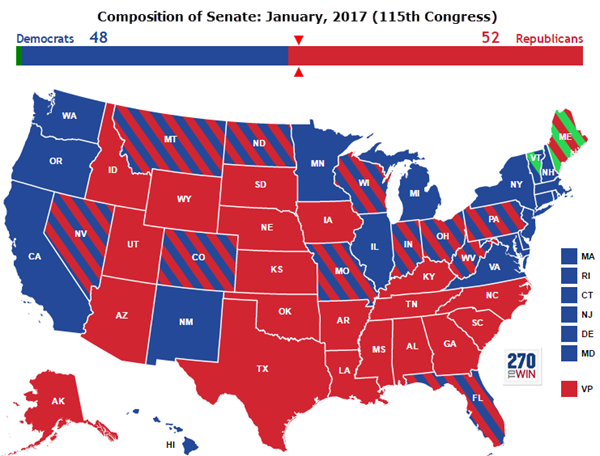 There will be 7 new Senators sworn in this January:
California: Kamala Harris (D) won seat held by retiring Barbara Boxer (D)
Illinois: Tammy Duckworth (D) defeated incumbent Mark Kirk (R) Dem. Gain
Indiana: Todd Young (R) won seat held by retiring Dan Coats (R)
Louisiana: John Kennedy (R) won seat held by retiring David Vitter (R)
Maryland: Chris Van Hollen (D) won seat held by retiring Barbara Mikulski (D)
Nevada: Catherine Cortez Masto (D) won seat held by retiring Harry Reid (D)
New Hampshire: Maggie Hassan (D) defeated incumbent Kelly Ayotte (R) Dem. Gain
One final note: Donald Trump has nominated Jeff Sessions (R) of Alabama to be Attorney General, with North Dakota's Heidi Heitkamp (D) a lead contender for Secretary of Agriculture. If confirmed, those Senators would be replaced. Heitkamp would bring a Democratic voice into the Trump administration, but her replacement would likely be a Republican, adding one to the GOP majority.
comments powered by

Disqus
Headlines