December 5, 2016
After weeks of uncertainty, North Carolina governor Pat McCrory has conceded the race to his Democratic opponent Roy Cooper. This was the last of the 12 gubernatorial races to be decided, and the only Democratic pick-up. Republicans swung 3 state houses, taking Missouri, New Hampshire and Vermont.
This leaves Republicans with control of 33 state houses, to 16 for Democrats. Alaska's governor is an independent. According to Wikipedia, the last time Republicans controlled this many governorships was 1922.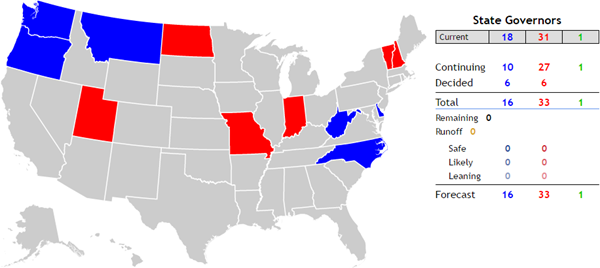 Only two governorships are up in 2017. Republican Chris Christie of New Jersey and Democrat Terry McAuliffe of Virginia are both term-limited, thus unable to run again.
comments powered by

Disqus
Headlines