December 5, 2016
Unique among the 50 states, Louisiana's Election Day for Congressional races consists of a non-partisan primary (sometimes called a 'jungle primary'), where all candidates, from all parties, appear on the ballot. Unless one candidate receives more than 50% of the vote, the top two vote getters advance to a runoff.
One Senate and two House seats will be contested in this year's Louisiana runoff, set for this Saturday, December 10th. All three seats are expected to remain in Republican hands.
While these races will 'complete' the faces of the new Congress, some of President-elect Donald Trump's nominations may result in open seats in 2017.
U.S. Senate: Republican state treasurer John Kennedy faces off against Foster Campbell, a member of the Louisiana Public Service Commission. The latest polling has Kennedy ahead by double-digits. A win by Kennedy will give Republicans 52 seats in the new Senate, with Democrats gaining two seats overall in the 2016 election.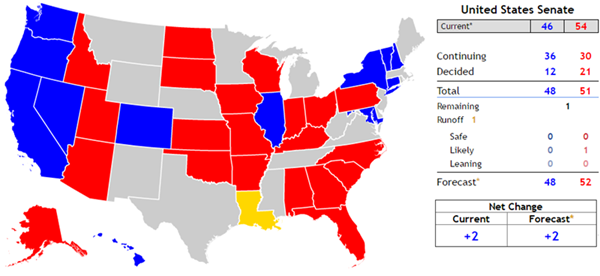 U.S. House: Districts 3 and 4 are moving to a runoff. Both seats are currently held by Republican incumbents that retired to make (unsuccessful) bids to win the above-referenced Senate seat. In the 3rd District, both participants in the runoff this Saturday are Republican, guaranteeing a party hold of that seat. While a Democratic vs. Republican runoff exists in the 4th District, the race is rated 'Safe Republican' by most pundits. Republican wins in these two races will give them 241 seats in the new Congress, down six from today's 247.
Impact of Trump Nominations on Congress: Several of Donald Trump's cabinet and other picks currently serve as Republican members of Congress. If confirmed, these seats would open up, to be filled by appointment and/or special election (laws vary by state, we haven't looked into the specfics). These include Senator Jeff Sessions of Alabama (nominated for Attorney General), Rep. Tom Price of Georgia (Health & Human Services), Rep. Mike Pompeo of Kansas (CIA). Other current Members appear to be in contention for positions where Mr. Trump has not made a selection as of yet.
comments powered by

Disqus
Headlines