Michigan Results to be Finalized at End of November; Trump Likely to Win
By 270toWin Staff
November 17, 2016
Donald Trump remains on track to win Michigan's 16 electoral votes, but the state won't officially certify the result until the end of November. At present, Trump leads by 0.3% or about 11,600 votes out of about 4.8 million votes counted.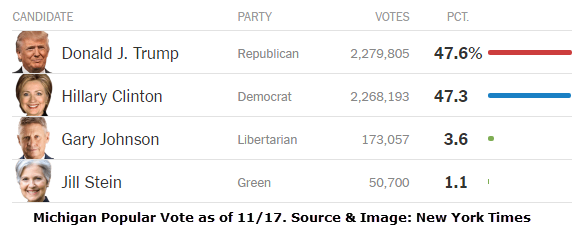 The Detroit News reports: While there is a possibility Clinton could narrow the gap as county clerks and canvassing boards double check their results and report them to the Board of State Canvassers, the process is unlikely to change the outcome.
"In every election, small vote shifts occur during the canvassing process but nothing to the degree of having a 13,000-vote margin overturned," said Secretary of State Office spokesman Fred Woodhams.
We'll continue to show Michigan in a lighter red on our 2016 electoral map, until the results are certified.
comments powered by

Disqus
Headlines