Who's in Charge? An Updated Outlook for 2016 House Elections
By 270toWin Staff
September 8, 2016
As is the case every two years, all 435 seats in the House of Representatives will be contested this November. Republicans currently* hold 247 seats, Democrats 188. With 218 seats required for control, Democrats must gain 30 seats to take the gavel from Paul Ryan. At this point, that outcome seems unlikely.
We've updated the House interactive map with ten ratings changes from Sabato's Crystal Ball. After these changes, Republicans are safely in control of 206 seats, Democrats 181. That leaves only 48 races that are at least somewhat competitive**; Democrats would need to win 37 of those. At this point, based on the Sabato team's analysis, a Democratic gain of 10-15 seats seems most likely.
Select the map below to create your own 2016 House forecast. Due to the number and geographical size of Districts, this map works a bit differently than our others. Here are a couple tips on using the map.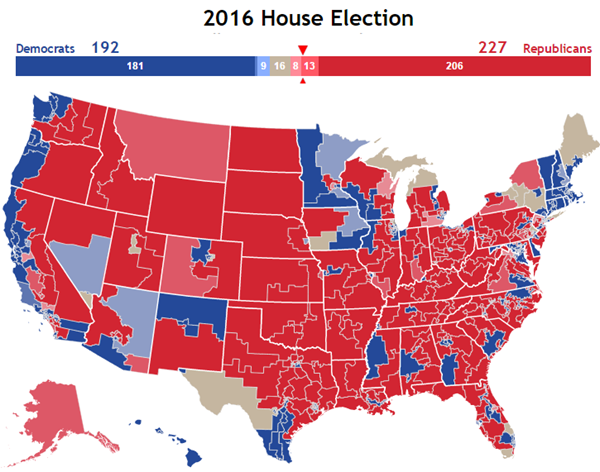 * This includes three vacancies that are all expected to remain with the prior incumbent party when filled. The actual composition of the House today is 246 Republicans and 186 Democrats
** This seems like an very small number given how unpopular Congress is. Gallup used to ask people about Congress as a whole vs. performance of their own Representative. It doesn't look like they do that any longer, but this article from a couple years back discusses the wide spread between those two numbers. Other elements come into play as well, including gerrymandered districts and the difficulty of unseating an incumbent, particularly in a primary.
comments powered by

Disqus
Headlines