Clinton Team Charts Road to 270 Electoral Votes
By 270toWin Staff
August 8, 2016
Three months out from the November 8 presidential election, the Associated Press reports that "Hillary Clinton doesn't appear all that interested in making scenic stops on her state-to-state quest to become president. The Democratic nominee is instead programming her GPS to take her on the quickest route to collect the 270 Electoral College votes she needs to win the White House.
With three months until Election Day, Clinton's campaign is focused on capturing the battleground states that have decided the most recent presidential elections, not so much on expanding the map.
Clinton's team doesn't rule out an effort at Arizona, a state with a booming population of Latino voters that polls find are loath to support Trump. And Georgia, a bastion of the Deep South, echoes recent population trends in other Southeastern states where Clinton is competing aggressively.
But neither is among the 11 battleground states that Clinton's television advertising plans and her travel schedule point to as her focus. Those states are the perennial top-tier targets Florida and Ohio, plus Colorado, Iowa, Michigan, Nevada, New Hampshire, North Carolina, Pennsylvania, Virginia and Wisconsin. President Barack Obama carried them all in 2008, and missed out on only North Carolina during his 2012 re-election campaign."
Here's how the strategy looks on the electoral map. Click or tap it to create and share your own election forecast: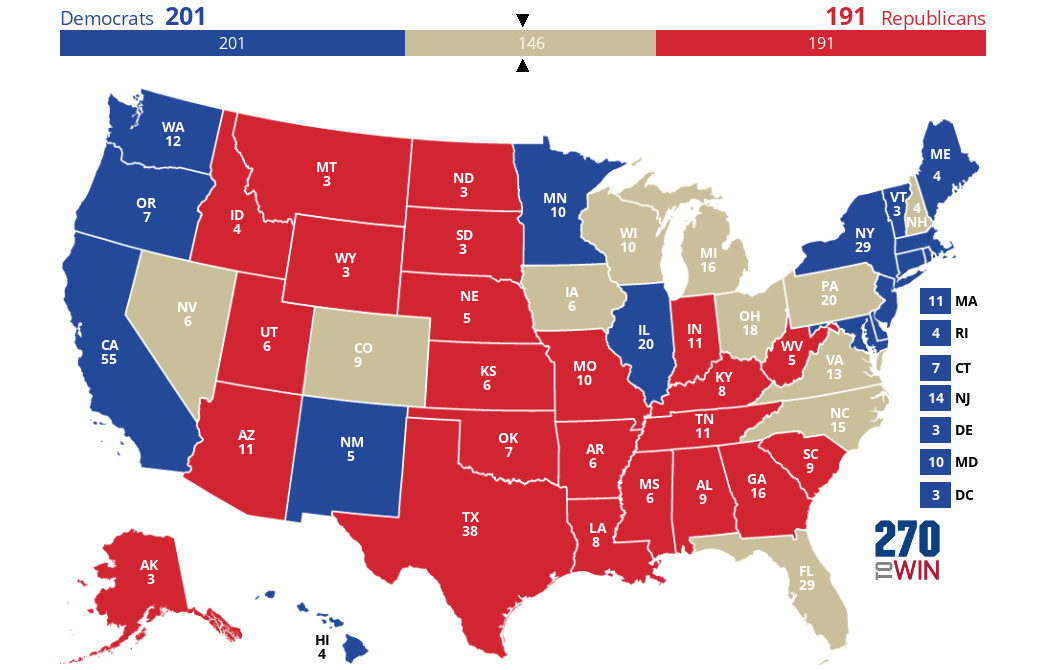 The Road to 270
As you create your forecast, keep an eye on The Road to 270 feature below the interactive map. There you can view all the combinations to reach 270 electoral votes for either Clinton or Trump, as well as any remaining tie possibilities. This automatically updates with each change you make to the map.
For example, with the map above, Clinton and Trump both have over 150 paths to 270, with numerous tie combinations remaining:

Click or tap on the number of combinations to view them individually, sorted from most to least likely based on the polls. You can also use the filters to see how many of the options involve each state, or a combination of states.
This feature becomes especially useful as the number of undecided states on your map declines. You'll begin to see states that are 'must win', as well as states that no longer matter in the path to 270.
comments powered by

Disqus
Headlines