Trump Gets Convention Bounce, Leads Clinton by 3 in New CNN Poll
By 270toWin Staff
July 25, 2016
Donald Trump leads Hillary Clinton 48%-45% in a CNN/ORC poll out Monday morning. The new poll is a ten-point swing from a pre-convention poll that had Clinton up by seven points.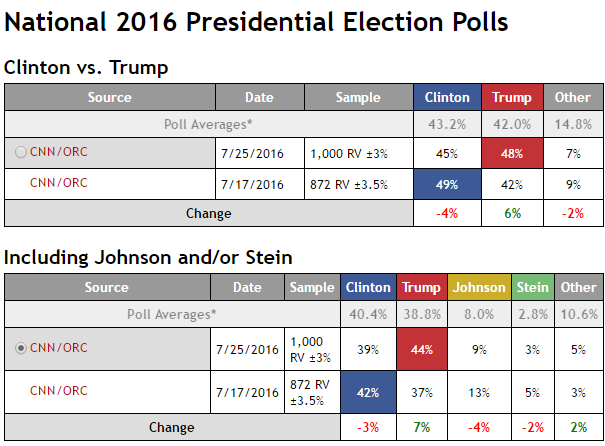 The lead is five points in a four-way match-up that includes Gary Johnson and Jill Stein.
According to CNN: "There hasn't been a significant post-convention bounce in CNN's polling since 2000. That year Al Gore and George W. Bush both boosted their numbers by an identical 8 points post-convention before ultimately battling all the way to the Supreme Court.
The new findings mark Trump's best showing in a CNN/ORC Poll against Clinton since September 2015. Trump's new edge rests largely on increased support among independents, 43% of whom said that Trump's convention in Cleveland left them more likely to back him, while 41% were dissuaded.
The Democratic Convention begins today in Philadelphia; we'll likely need to wait until next week to see if there is a corresponding bounce for Clinton as there was for Gore in 2000.
comments powered by

Disqus
Headlines