July 20, 2016
The 270toWin polling pages have been updated to include and break out the performance of Libertarian Gary Johnson and Green Jill Stein. Given the high unfavorables of the major party nominees, it could very well be that one or both of these 3rd party nominees influences the outcome of the 2016 presidential election.
On our 2016 presidential election polls home page, we show the most recent poll from each state. Use the check box to view polls that include Johnson and/or Stein. The polls can be ordered by date or alphabetically by state. Another option is competitiveness (Clinton vs. Trump). Finally, you can choose a candidate to order the results from high to low for that person. For example, Johnson's best numbers have been seen in three Western states and New Hampshire: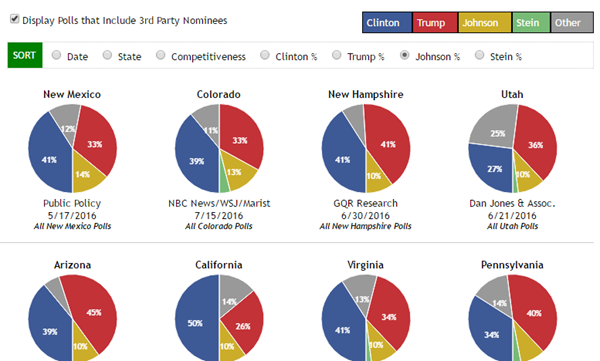 With state-level polling expected to significantly pick up in the weeks ahead, we will be transitioning this page in the near future to reflect the polling average for each state, as opposed to the most recent poll.
Each state's most recent poll includes a link to all the polls for that state. There is also a separate link on the page to the national polls. These pages are divided into two sections. The top half just looks at Clinton vs. Trump, while the bottom section includes poll tests that include one or more 3rd parties*.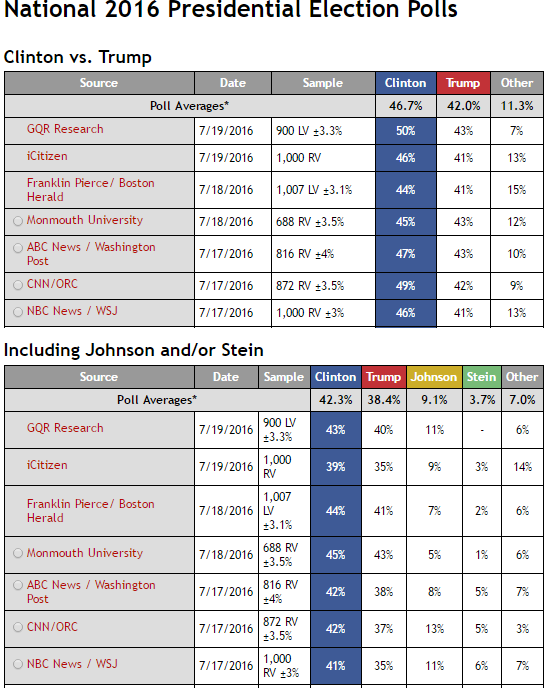 * Some polls are including separate queries for Clinton/Trump and Clinton/Trump/Named 3rd Party. Where both are available, each result is used in the appropriate table. Where the only question is Clinton/Trump/Named 3rd Party, that result is used in both tables. Finally, if the only question is Clinton/Trump, there is no entry for that poll in the 3rd party table.
comments powered by

Disqus
Headlines