Clinton Wins California
By 270toWin Staff
June 8, 2016
Hillary Clinton has won California, according to the Associated Press (AP) and other media outlets. This gave Clinton four victories out of the six states where Democrats voted Tuesday night. More importantly, it avoided the prospect, based on tightening polls, that the presumptive Democratic nominee would lose the nation's most populous state to Bernie Sanders.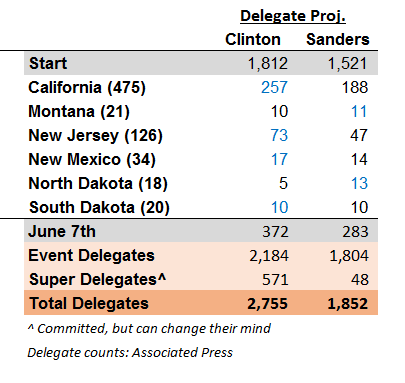 Clinton, with an estimated 2,755 delegates, is now almost 400 delegates clear of the 2,383 required to win the nomination. She's less than 200 short of achieving that number based on pledged delegates alone.
As of late last night, before Clinton was known to have won California, Sanders said he would remain in the race.
comments powered by

Disqus
Headlines