Clinton Leads California; Will Achieve Pledged Delegate Majority
By 270toWin Staff
June 8, 2016
With 82% of the vote counted, Hillary Clinton leads Bernie Sanders by about 14 points in California. The race remains uncalled by the Associated Press at this hour.

Elsewhere Tuesday, Clinton easily won New Jersey, the other large delegate prize of night. She has also been declared the winner in New Mexico and South Dakota, while Sanders won in Montana and North Dakota.
Turning to delegates, Clinton has thus far picked up 114 on the night to Sanders 94. Clinton is now 100 delegates from winning a majority of pledged delegates (2,026), a number she'll easily surpass once California's 475 delegates are allocated. She will remain about 200 pledged delegates short of an overall majority (2,383); she is the presumptive nominee as superdelegates committing to her have made up the difference.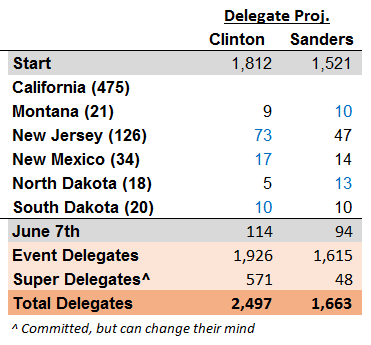 On the Republican side, Donald Trump won all five primaries, adding 297 delegates to his total.
comments powered by

Disqus
Headlines