New Polls Point to Tightening Presidential Race
By 270toWin Staff
May 22, 2016
Two polls out Sunday, one from ABC/Washington Post and another from NBC/Wall Street Journal show the 2016 presidential race has become a toss-up. The NBC/WSJ poll has Hillary Clinton up by three, while ABC/WP has Donald Trump up by two.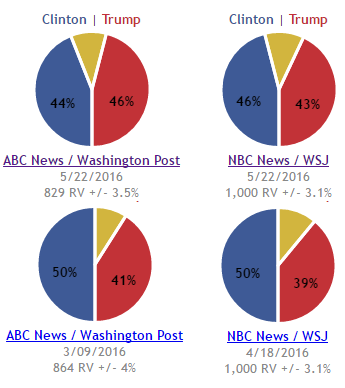 The last time these surveys were taken, Clinton was at 50%, with a 9 to 11 point lead over Trump. The narrowing spread is not surprising as the November match-up has moved from hypothetical in March/April to highly likely. As the race becomes more concrete, people naturally return to their partisan corners. In particular, Trump seems to be consolidating party support. The NBC/WSJ poll found Republicans prefer him to Clinton by 86% to 6%, vs. 72% to 13% last month.
The NBC/WSJ poll also looked at Sanders vs. Trump. As has usually been the case, Sanders performs better than the former Secretary of State. Sanders leads 54%-39% over Trump. Separately, ABC/WP considered a three-way race including 2012 Republican nominee Mitt Romney. In this case, Clinton leads by two, 37%-35% over Trump; Romney scored a surprisingly robust 22%.
For more, see our 2016 polls page, where you can review national and state-by-state surveys. We also have a Clinton vs. Trump electoral map that is based on state-level polling.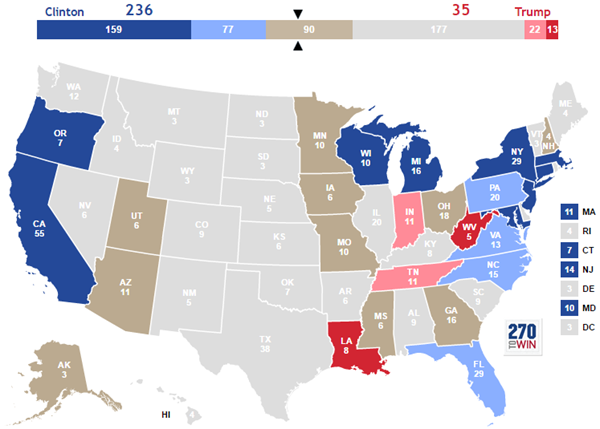 comments powered by

Disqus
Headlines