More than 10% of U.S. House Members Not Seeking Reelection in 2016
By 270toWin Staff
May 20, 2016
The announced retirements this week of Democrat Mark Takai (HI-01) and Republican Curt Clawson (FL-19) bring to 44 the number of House members not seeking reelection to their seat in 2016. This is just over 10% of the 435 voting members. In addition, two others will not be in the same seat next year: Democrat Chaka Fattah (PA-02) lost in a primary; Republican Randy Forbes (VA-04) is running in VA-02 after court-ordered redistricting.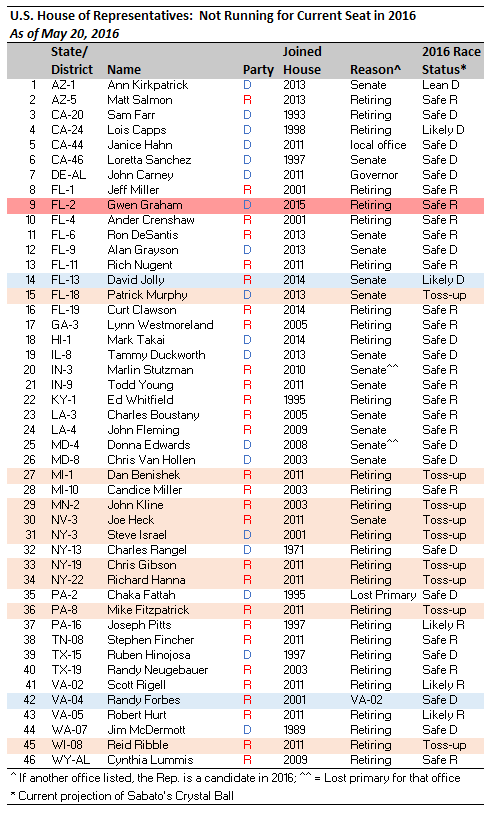 Of these 46, 28 are Republicans, 18 are Democrats. As with the House as a whole, most of these seats are expected to stay with the same party. Three are likely to change hands, two in Florida and one in Virginia, all related to court-ordered redistricting. Only two Democratic and seven Republican seats are seen as toss-ups at this point. All ratings courtesy of Sabato's Crystal Ball.
Of the 46, 28 are retiring, 14 are running for Senate (two of those have already been defeated in a primary), 3 are running for other offices and one lost in their House primary.
Republicans control the House by a 246-188 margin; that will likely increase to 247 after the June 7 special election in OH-08 to fill the seat of former Speaker John Boehner. Looking ahead, the Sabato team sees 221 seats as safe or likely for Republicans in November, vs. 184 for Democrats. 30 seats are more competitive, including 18 toss-ups.

The bottom line is that Republicans are very likely to lose some but not all of their majority in 2016. 218 seats are needed for control. You can create your own forecast using our Interactive House Map.
comments powered by

Disqus
Headlines