Trump 102 Delegates From Securing Nomination; Clinton 144 Despite West Va. Defeat
By 270toWin Staff
May 11, 2016
While Bernie Sanders won the battle in West Virginia Tuesday, Hillary Clinton moved 11 delegates closer to clinching the Democratic nomination. She's now 144 away, counting committed superdelegates, from the required 2,383.
No longer facing any competition, Donald Trump easily won Nebraska and West Virginia, picking up an additional 67 delegates. (Three West Virginia delegates remain outstanding as of this writing). That gives Trump 1,135 delegates, 102 from the required 1,237.
Looking at the number of pledged delegates available in upcoming events, both Clinton and Trump should cross the finish line on June 7th.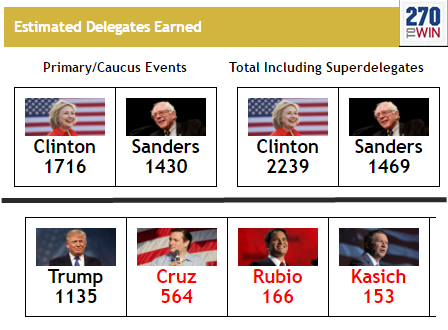 Clinton's path to victory has been made easier by the overwhelming support of party superdelegates. Despite the math, Sanders has vowed to stay in the race "until the last vote is cast". His best hope is to pass Clinton in pledged delegates over the course of the remaining contests and use that to persuade superdelegates to rethink their commitment. Sanders would need to win about 2/3 of the remaining pledged delegates for the first part of this to occur. While not impossible, it would require a pretty dramatic shift in this final month of Democratic voting. That said, the closer Sanders can get, the more influence he and his supporters are likely to have in shaping the platform and program at the Democratic Convention this July.
comments powered by

Disqus
Headlines