Six National Polls This Week Show Sanders, Kasich Perform Best in November Match-Ups
By 270toWin Staff
March 24, 2016
Many notable pollsters have picked this week to release national polls looking at prospective match-ups for the November election. The main takeaway appears to be: The less likely a candidate is to get his or her party's nomination, the better they perform in the general election.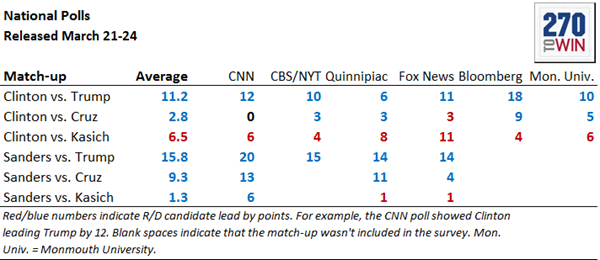 On the Republican side, John Kasich swept all 6 polls when pitted against Hillary Clinton, winning by an average of 6.5 points. On the other end of the spectrum, both Bernie Sanders and Hillary Clinton average a double-digit lead over Republican frontrunner Donald Trump. The closest match-up for Democratic frontrunner Clinton appears to be with Ted Cruz.
While these numbers are interesting, they ultimately don't tell us much. Trailing for their party's nominations, Kasich and Sanders have been subject to fewer attacks and are still not as well-known across party lines as Clinton and Trump, who both consistently have high unfavorable ratings in polls. In addition, the only polls that ultimately matter are those at the state level.
comments powered by

Disqus
Headlines