Bloomberg Says Not Running for President
By 270toWin Staff
March 7, 2016
Former New York City Mayor Michael Bloomberg has decided not to run as an independent in 2016, he announced this afternoon on Bloomberg View. As in the past when he's looked at running, he decided he couldn't win a 3-way race. Part of his statement follows: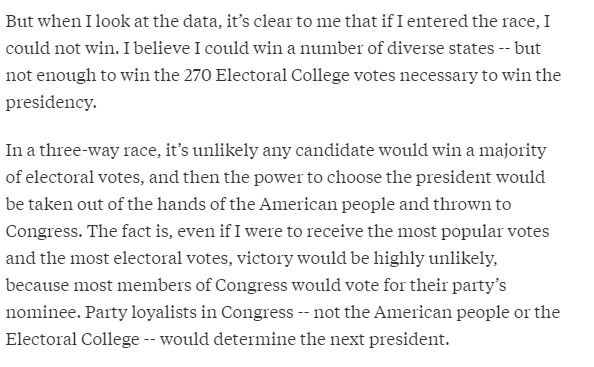 While Bloomberg has decided to pass on 2016, this doesn't completely end the possibility of a credible independent or 3rd party challenge. The two most likely scenarios involve Donald Trump. If he looks to win the nomination, a well-known conservative may choose to join up with a 3rd party that has ballot access, such as the Constitution Party. Alternately, if Trump doesn't get the nomination, he may choose to go the independent route.
For those interested in such possibilities, try our 3rd party interactive electoral map.
comments powered by

Disqus
Headlines