Rubio Hold 2nd in Latest Batch of Polls; Impact of Debate Performance Remains to be Seen
By 270toWin Staff
February 7, 2016
A new batch of Republican New Hampshire polls out this Sunday morning show little change from recent days. Donald Trump remains well ahead of the field, averaging 32% overall. Marco Rubio is 2nd with 15%, followed by Cruz at 13%, Kasich 11% and Bush 9%.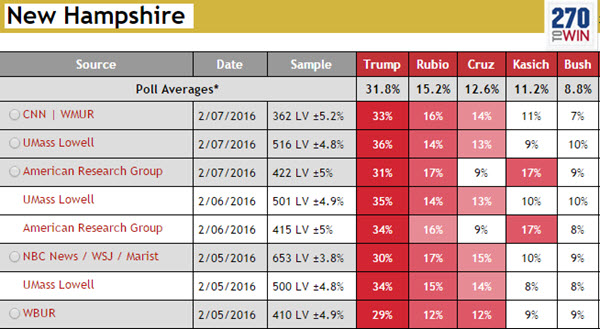 All of today's surveys were conducted prior to last night's debate, where Rubio's effort was widely panned. Fox News analyst Brit Hume said that the Florida Senator's performance "reminded me of nothing so much as Dan Quayle in the 1988 (vice) presidential debate..."
On the Democratic side, Bernie Sanders holds a 15 point lead, on average, over Hillary Clinton after today's new set of polls.
comments powered by

Disqus
Headlines