UMass Lowell New Hampshire Tracking Poll: Trump, Sanders Lead; Rubio Gaining
By 270toWin Staff
February 4, 2016
UMass Lowell, in conjunction with 7News in Boston has been conducting a daily tracking poll of New Hampshire voters. Today's release marked the fourth consecutive day, and the first where it appears most of the survey was taken after Iowa. It is expected the poll will be released daily, with the final one on the morning of the New Hampshire primary, February 9.
Republicans: Marco Rubio has gained each day, building on the strength of his better-than-expected showing in Iowa. Today he passed Ted Cruz and into 2nd place, although that one point difference is statistically insignificant. Donald Trump remains well out in front of the dwindling Republican pack. Rand Paul, Rick Santorum and Mike Huckabee have left the race since the tracking poll began.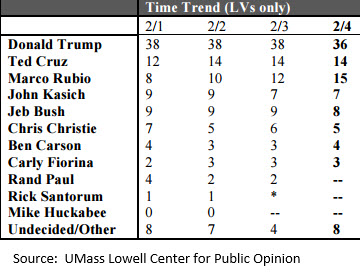 Democrats: Bernie Sanders maintains a large lead over Hillary Clinton, although today's tracker indicates Clinton has eaten into that lead slightly.

Looking ahead to Tuesday, there is a 50/50 chance of snow, according to the National Weather Service.
comments powered by

Disqus
Headlines