January 1, 2016
Happy Presidential Election New Year! There are 312 days until the 2016 presidential election. This year will also see contests for all 435 House seats as well as 12 gubernatorial contests. Republicans currently hold the House with 246 seats (218 needed for control) and control 31 of the 50 state executive chairs.
Republicans also control the Senate, with 54 of the 100 seats. Unlike the House, where Republicans will most likely hold power, the Senate is once again up for grabs. Republicans gained control in 2014, when most seats up were held by Democrats. The situation is reversed this year, with 24 of the 34 elections held by Republican incumbents. Outside the presidential election, this will be the most interesting area to watch and forecast.
To that end, we've been busy upgrading our interactive Senate map. The new map, which we hope to launch in the next couple weeks, will be three maps in one. You'll be able to look at the current Senate, make your forecast for the 2016 Senate elections and then view the composition of the 2017 Senate based on your predictions.
It will also be easier to share the map via social media or embed an image into a web page.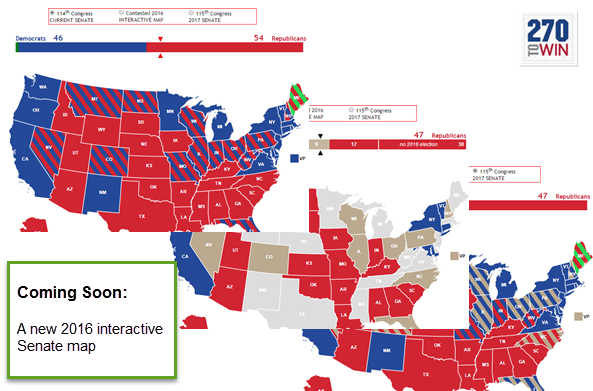 comments powered by

Disqus
Headlines