Clinton Leads in 2016 Match-Ups; GOP Shows Improved Standing with Latinos vs. 2012
By 270toWin Staff
December 7, 2015
A new poll finds Fading Republican Ben Carson trails Hillary Clinton by just 1%, while frontrunner Donald Trump trails her by 11%. These are some of the findings of the MSNBC/Telemundo/Marist poll out today. Clinton leads other prospective challengers by anywhere from 3 to 7 points.

The poll also looked at how each candidate would do against Clinton with a subset of Latino voters. No great surprise here, as Clinton beats Bush, Cruz and Carson by about 25%, and Trump by 42% with that segment. Rubio performs best, with a 19 point deficit.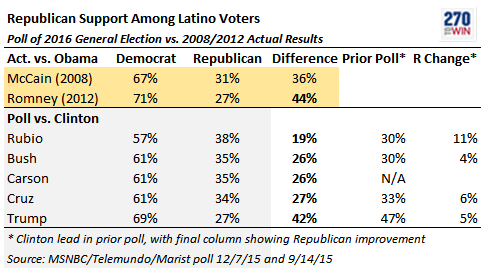 Rubio gained 11 points, after trailing with Latinos by 30 points in the prior MSNBC survey, conducted in September. In fact, where comparisions are available, each Republican's relative support with Latinos is up, and Republicans are generally outperforming 2012 actual results. Barack Obama beat Mitt Romney by 44 points, 71% to 27% in that year's presidential election. Even Trump, vilified by Latinos for his stance on immigration, is running no worse than that at this point.
comments powered by

Disqus
Headlines