October 29, 2015
Donald Trump won the CNBC debate according to about 40% of those participating in an overnight snap poll at 270toWin. Marco Rubio also had a strong night, with about 22% naming him. With 6 and 10 choosing these two, it seems as the leading outsider and the emerging establishment candidate both kept the momentum going with their performance.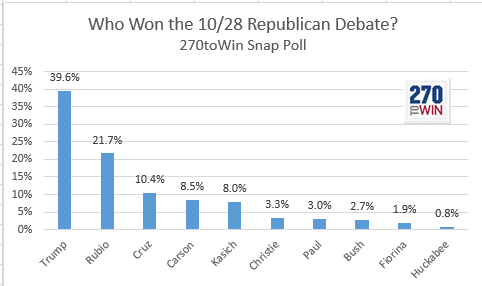 Ted Cruz was third with about 10% support. Ben Carson, who had been gaining on Trump in several recent polls, even taking the lead in Iowa, was seen as the winner by 8.5%, about the same as John Kasich. Considering their relative position coming into the debate, this could be interpreted as a very good showing by the Ohio governor. We shall see if this translates into improved polling in the weeks ahead.
The remaining 5 participants had less than 5% support. Interestingly, Chris Christie and Jeb Bush both received about 3% in the poll, even though pundits have widely praised the New Jersey governor's performance while panning that of the former Florida governor.
Thanks to everyone that participated in our overnight snap poll. While we eliminated obvious duplicate votes from the results, we do want to note that this is just a response by those that chose to participate, and not a random sample.
comments powered by

Disqus
Headlines