New Milestone in Presidential Succession Reached
By 270toWin Staff
October 27, 2015
This seems like a slightly awkward topic to write about, but ultimately good news given today's longer life expectancy and improved presidential security.
Today (October 27) is 18,967 days since president John F. Kennedy died in office. This marks the longest such interval in U.S. history. The previous gap of 18,966 days occurred between George Washington's inauguration as the first president on April 30, 1789 and the death of William Henry Harrison, just one month into his term, on April 4, 1841.
The shortest such period was the 3,383 days after John Tyler took over for Harrison; Zachary Taylor died on July 9, 1850.
Eight presidents have died in office; 4 by assassination, 4 by other causes.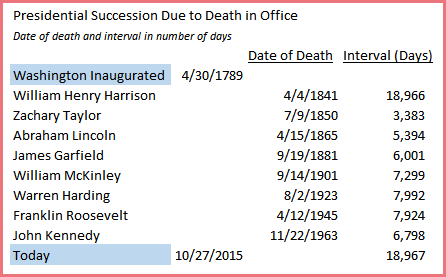 comments powered by

Disqus
Headlines