Clinton, Sanders & Carson Top Third Quarter Fundraising
By 270toWin Staff
October 16, 2015
Third quarter fundraising numbers are out, as reported by Politico. Three candidates topped $20 million, including Democrats Hillary Clinton and Bernie Sanders. Ben Carson was the only Republican to surpass that total in a much larger Republican field, while frontrunner Donald Trump's numbers reflect the fact that he is self-funding his campaign.
Republican Fundraising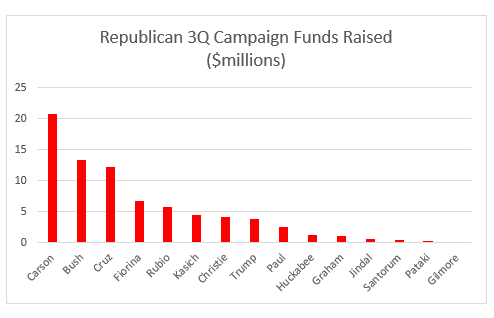 Republicans raised $77.4 million in Q3, per the Politico article. More than half of this was raised by Carson, Jeb Bush and Ted Cruz. Carson, Bush, Cruz and Rubio all had over $10 million cash on hand at the end of the reporting period. Most of the candidates that raised less than $3 million spent more during the quarter than they took in. As noted earlier, Trump is a bit of an outlier as he is primarily self-funding. Trump raised and spent roughly $4 million.
Democratic Fundraising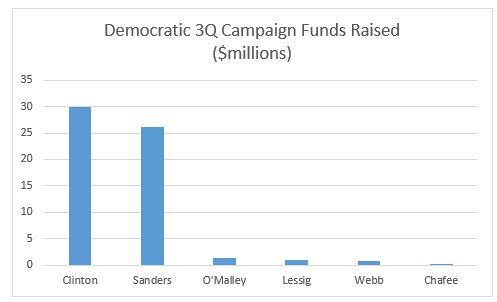 Democrats raised $59.1 million during the quarter, 95% of it to frontrunner Clinton and her closest challenger Sanders. Those two candidates had over $25 million cash on hand at the end of the quarter.
comments powered by

Disqus
Headlines