Trump, Clinton Lead in 3 Swing States Despite Poor Favorability Ratings
By 270toWin Staff
October 7, 2015
A new Quinnipiac Poll for the swing states of Florida, Ohio and Pennsylvania shows Donald Trump and Hillary Clinton remaining atop the field in those states for their parties' nomination. This despite the fact that they continue to have the worst overall favorability ratings among all voters. Translation: Perhaps the most polarized general election ever if these two are the eventual nominees.
For the Republicans, Trump and Ben Carson were 1-2 in all 3 states, with Florida Senator Marco Rubio 3rd in that state and Pennsylvania. Governor John Kasich of Ohio was 3rd in his state. In passing Kasich in Ohio, Trump now leads in in almost every state where Republican primary polling has been conducted.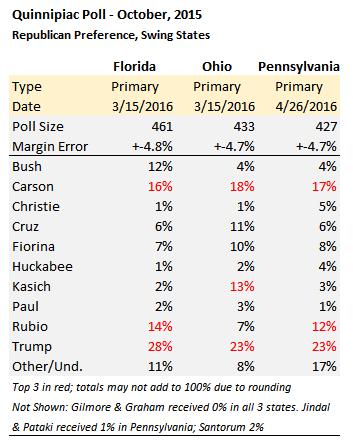 Results were fairly similar across the three state for the Democratic candidates. In Ohio, Clinton's 40% was equal to Biden + Sanders. She outperformed that in Florida, while doing a bit more poorly in Pennsylvania. If Biden wasn't in the equation, Clinton would be just over 50% in all 3 states; Sanders about 25%
Quinnipiac also took a look ahead to the general election in Florida, Ohio and Pennsylvania.
comments powered by

Disqus
Headlines