New Poll Shows a Generally Close Presidential Election Race
By 270toWin Staff
September 3, 2015
A new national poll from Public Policy Polling (PPP) points to a competitive general election, although the named Democratic nominee usually has a small lead.
PPP surveyed 16 possible match-ups, 9 involving Hillary Clinton, 5 Bernie Sanders and 2 Joe Biden.Clinton leads in 8 of the 9 heats. She is tied with Ben Carson, and leads Scott Walker by 7; all the other results fall within those two ranges.
Joe Biden was surveyed against Bush and Trump, leading Bush by 3 points and Trump by 6 points. Bernie Sanders lost 3 of the 5 match-ups he was in, most notably by 6 points to Ben Carson.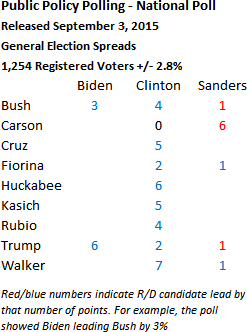 Visit our 2016 presidential election poll page for all the national and state-level general election surveys.
==
Bored at the office? Try our States I've Visited Electoral Map.
==
comments powered by

Disqus
Headlines