Interactive Electoral Map for Mobile Devices now Available
By 270toWin Staff
April 14, 2015
Those of you visiting 270toWin from a tablet or smartphone will now be able to create an interactive electoral map and view the maps and forecasts created by others. This will probably be a bit more useful than the mostly blank screen previously 'visible' on devices unable to display Flash objects in the browser.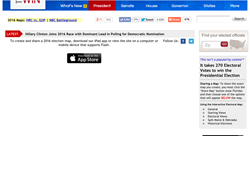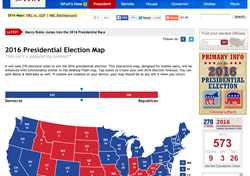 Home Page: On a mobile device, you'll see the new map, initially set to the results of the 2012 election. Tap states to create your own forecast. If cookies are enabled, your map should be as you left it when you return to 270toWin
Shared Forecasts: You can view maps created on the Flash version and shared by others. These will be displayed using the new map. For example, the NBC Battleground 2016 map.
Polling Maps: We've created a series of electoral maps that show how different Republicans are performing against Hillary Clinton, purely based on early polling. These will now be visible on your device.
In the weeks ahead, we'll be upgrading the new map, adding many of the other features of the Flash map.
If you have any feedback or run into any issues, please add a comment to let us know.
comments powered by

Disqus
Headlines