2015 Senate Map
By 270toWin Staff
December 18, 2014
270toWin has launched its 2015 Senate map, reflecting the 100 Senators to be part of the 114th Congress, which will be seated in early January. The new Senate will have a Republican majority with 54 seats, up from 45 in the prior Congress.
The new Congress will include 12 new Senators that won seats in the 2014 election, eleven Republicans and one Democrat. (Of these, two Republicans and the Democrat replace Senators of the same party. Removing those yields the +9 Republican gain.)
The map is colored to reflect the party composition of Senators in each state. Hover over (or tap) a state to see its Senators. The table under the map divides the Senate by class / next election date. For those Senators up in 2016, we list the current ratings of Sabato's Crystal Ball.
A party breakdown of those classes can be seen to the right of the map. Interestingly, each class is currently heavily stacked toward one party or the other. There's no historical reason for this distribution. In fact, with no state's two Senators in the same class, it seems like an unlikely evolution. Yet that is where we are, and 2016 will have 24 Republican seats up for grabs vs. just 10 currently held by Democrats.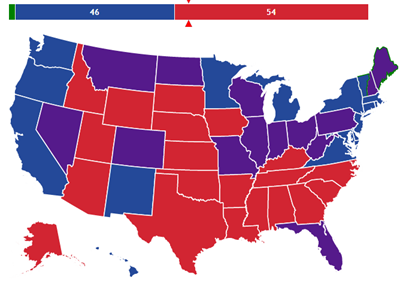 comments powered by

Disqus
Headlines