2012 Presidential Election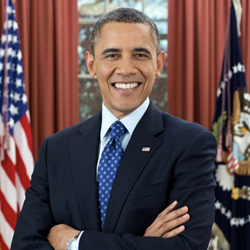 Barack H. Obama

Change History!
2012 interactive map
The 2012 United States presidential election was the 57th quadrennial American presidential election. It was held on Tuesday, November 6, 2012. The Democratic nominee, President Barack Obama, and his running mate, Vice President Joe Biden, were elected to a second term. They defeated the Republican ticket of former Governor Mitt Romney of Massachusetts and Representative Paul Ryan of Wisconsin.
As the incumbent president, Obama secured the Democratic nomination with no serious opposition. The Republicans experienced a competitive primary. Romney was consistently competitive in the polls and won the support of many party leaders, but he faced challenges from a number of more conservative contenders. Romney clinched his party's nomination in May, defeating Rick Santorum, Newt Gingrich, and several other candidates.
The campaigns focused heavily on domestic issues, and debate centered largely around sound responses to the Great Recession. Other issues included long-term federal budget issues, the future of social insurance programs, and the Affordable Care Act, Obama's marquee legislative program. Foreign policy was also discussed, including the phase-out of the Iraq War, military spending, the Iranian nuclear program, and appropriate counteractions to terrorism. The campaign was marked by a sharp rise in fundraising, including from nominally independent Super PACs.
Obama defeated Romney, winning a majority of both the popular vote and the Electoral College. Obama won 51.1% of the popular vote compared to Romney's 47.2%. Obama was the first incumbent since Franklin D. Roosevelt in 1944 to win reelection with fewer electoral votes and a lower popular vote percentage than had been won in the previous election, and was also the first two-term president since Ronald Reagan to win both his presidential bids with a majority of the nationwide popular vote.
Source: Wikipedia
2012 Election Results
| | | Candidate | Party | Electoral Votes | Popular Votes |
| --- | --- | --- | --- | --- | --- |
| ✓ | | Barack H. Obama (I) | Democratic | 332 | 65,915,795 |
| | | W. Mitt Romney | Republican | 206 | 60,933,504 |
| | | Gary Johnson | Libertarian | 0 | 1,275,971 |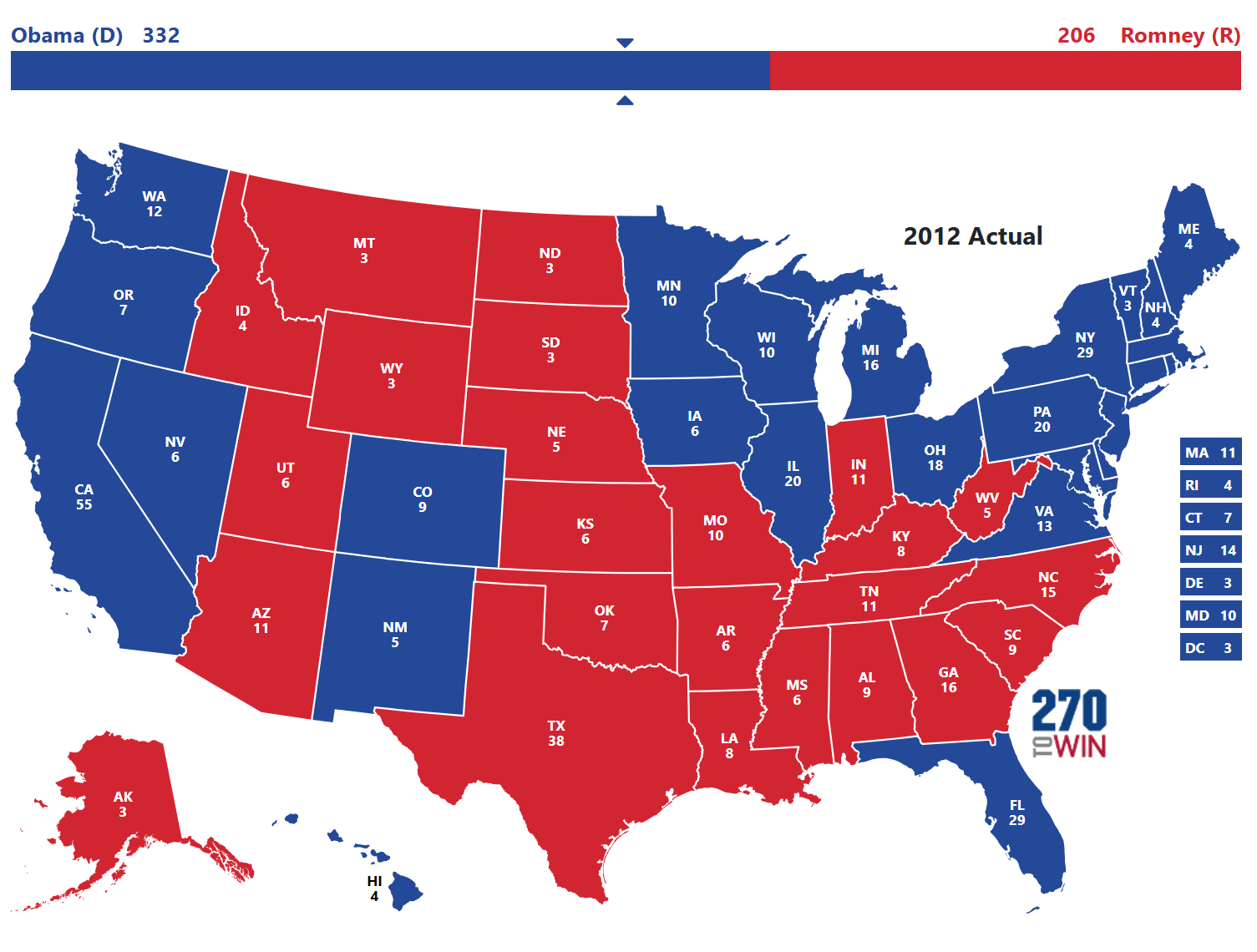 2012 Election Facts
Popular vote totals from Federal Elections 2012.
Issues of the Day: Role of government, Spending & tax rates, Nuclear Iran, Arab Spring, Global warming, Campaign finance
Obama only the 2nd president (Wilson, 1916) to be elected to a second term with fewer electoral votes than earned when winning first term
Few Battlegrounds: Despite a fairly competitive race overall, only four states were decided by less than a 5% popular vote margin
Electoral Vote changes for 2012 based on 2010 Census: [+4 TX], [+2: FL], [+1: AZ, GA, NV, SC, UT, WA],
[-1: IA, IL, LA, MA, MI, MO, NJ, PA], [-2: NY, OH]
More Census: First time that CA hasn't gained an electoral vote in reapportionment; 7th consecutive time NY has lost 2 or more; TX gain of 4 most since CA gained 7 after 1990 count
Margin of Victory Map
This map is shaded by how large the popular vote difference was between the two nominees. It is a way to view the relative competitiveness of each state. These maps are also available as a timeline for each election from 1972-2020.