1988 Presidential Election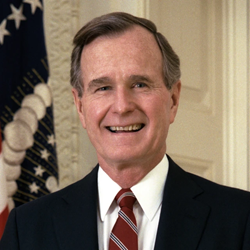 George Bush

Change History!
1988 interactive map
The United States election of 1988 featured an open primary for both major parties. Ronald Reagan, the incumbent President, was vacating the position after serving the maximum two terms allowed by the Twenty-second Amendment. Reagan's Vice President, George H. W. Bush, won the Republican nomination, while the Democrats nominated Michael Dukakis, Governor of Massachusetts. Bush capitalized on a good economy, a stable international stage (the U.S. was not involved in any wars or conflicts during this time), and on Reagan's popularity. Meanwhile, Dukakis's campaign suffered from several miscues. This caused the Republicans to win their third presidential election in a row. In this election, Bush became the first incumbent Vice President of the United States to win a presidential election in 152 years, since Martin Van Buren in 1836. Just like Van Buren in 1840, President Bush would also be defeated for reelection in 1992, after serving a single term.
Source: Wikipedia
1988 Election Results
| | | Candidate | Party | Electoral Votes | Popular Votes |
| --- | --- | --- | --- | --- | --- |
| ✓ | | George Bush | Republican | 426 | 48,886,597 |
| | | Michael S. Dukakis | Democratic | 111 | 41,809,074 |
| | | Other: See Election Facts Below | | 1 | |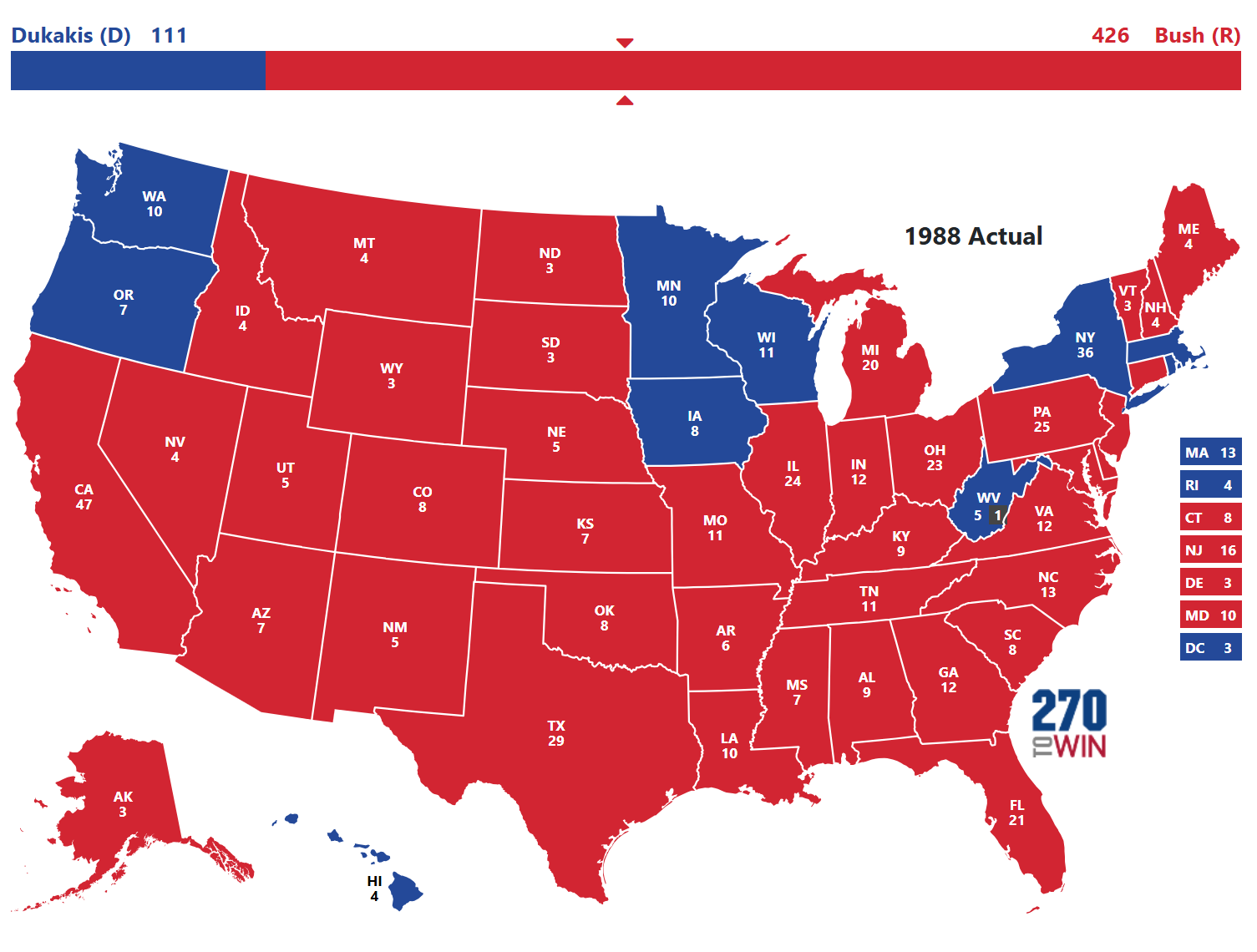 1988 Election Facts
Dukakis won West Virginia; however one elector cast a vote for Dem. Vice-President candidate Lloyd Bentsen (with Dukakis as Vice-President)
Popular vote totals from Federal Elections 88.
Issues of the Day: Stock market crash, Iran-Contra, Progress in US-USSR relations (INF Treaty)
Margin of Victory Map
This map is shaded by how large the popular vote difference was between the two nominees. It is a way to view the relative competitiveness of each state. These maps are also available as a timeline for each election from 1972-2020.