North Dakota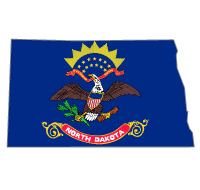 North Dakota joined the Union in November 1889, one of four states admitted in the first part of that month, the busiest period of new-statehood creation in U.S. history. North Dakota has participated in 32 presidential elections, voting Republican in 26 of them. Of the five times it went "blue," only 1916 (Woodrow Wilson's second-term victory) was not a landslide for the Democratic candidate. (North Dakota's first election as a state was won by a 3rd party candidate). Today, North Dakota is a very safe state for the Republicans in presidential elections. In 2016, Donald Trump defeated Hillary Clinton by a 63% to 27% margin. The state's population of about 673,000 is little changed from what it was in 1920. As a result, North Dakota is one of seven states with the minimum three electoral votes.
Voting History
State voted with the overall winning candidate
Electoral College Votes
Colored bars represent electoral votes by party. Hover to see names. 2020 electoral votes shown in dark green until after the election.