Massachusetts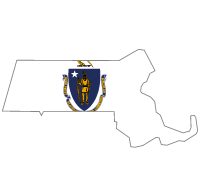 Massachusetts, one of the original 13 colonies, joined the Union in February 1788, and has participated in all 58 presidential elections. The state has been reliably Democratic since 1928, but has voted Republican four times since then – twice each for Dwight Eisenhower and Ronald Reagan. Massachusetts was the only state to vote for George McGovern in his huge 1972 electoral loss to Richard Nixon. Like many northeastern states, Massachusetts slowly lost its electoral clout over the course of the 20th century. The state has lost 1/3 of its electoral votes since the 1920s, falling from 18 to 11. In 2016, Hillary Clinton beat Donald Trump 60% to 33%.
Voting History
State voted with the overall winning candidate
Electoral College Votes
Colored bars represent electoral votes by party. Hover to see names. 2020 electoral votes shown in dark green until after the election.