Kansas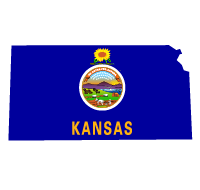 Kansas entered the Union in January 1861, a little over two months prior to the start of the Civil War and seven years after it became a territory under the aptly named Kansas-Nebraska Act. The state is strongly Republican in presidential elections; it hasn't voted for a Democrat since 1964, when Lyndon Johnson won the presidency in a landslide. In 2016, Donald Trump won by 57% to 36% over Hillary Clinton.

Kansas' population growth has been slower than the nation's as a whole in recent decades, as population trends have been away from rural locations to more urban centers. As a result, the state has lost electoral influence: From a peak of 10 electoral votes in the early part of the 20th century to six today.
Voting History
State voted with the overall winning candidate
Electoral College Votes
Colored bars represent electoral votes by party. Tap to see names. 2020 electoral votes shown in dark green until after the election.