Idaho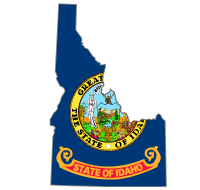 Idaho gained statehood in July 1890, and has had four electoral votes since 1912. Republicans and Democrats both won elections up through 1928. During the Great Depression and throughout World War II, Idahoans voted for FDR four times. Democrats won a fifth straight election here in 1948, before Dwight Eisenhower flipped the state while winning election to his first term in 1952. Like most other states in the Mountain West, Idaho has been a Republican stronghold for the last several decades, having voted Democratic just once since that Eisenhower win – the 1964 landslide victory of Lyndon Johnson over Barry Goldwater. In 2016, this trend continued, as Donald Trump defeated Hillary Clinton by 59.3% to 27.5%.
Voting History
State voted with the overall winning candidate
Electoral College Votes
Colored bars represent electoral votes by party. Tap to see names. 2020 electoral votes shown in dark green until after the election.