Delaware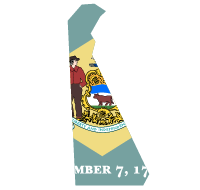 Delaware, the first state, joined the Union in December 1787 and has participated in all 58 presidential elections. For 56 of those elections, the state has had three electoral votes – it contributed four in 1812 and 1820. The fact that Delaware sided with the Republicans throughout most of the 20th century can be partially attributed to the presence of the DuPont Company and the Du Pont family and their effect on state politics. That influence waned toward the end of the century as Delaware's businesses became more diversified.

Like many northeastern states, Delaware has voted Democratic in the last seven elections, with Hillary Clinton beating Donald Trump by 11.5 points in 2016. This margin was down from the previous two elections, when the state's long-time Senator, Joe Biden ran for Vice-President on the Democratic ticket.
Voting History
State voted with the overall winning candidate
Electoral College Votes
Colored bars represent electoral votes by party. Tap to see names. 2020 electoral votes shown in dark green until after the election.
Gray indicates available electoral votes that were either not cast or cast for a candidate not on the ballot.