Connecticut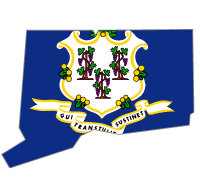 Connecticut, one of the 13 original colonies, joined the Union in January 1788 and has participated in all 58 presidential elections. The state maintained eight electoral votes from the 1930s through 2000, but dropped back to seven in 2004. Connecticut has gone through periods where it primarily voted Republican. However, it has gone Democrat for the last seven elections, and is not currently considered a battleground state. In 2016, Hillary Clinton defeated Donald Trump by about 13.5%.
Voting History
State voted with the overall winning candidate
Electoral College Votes
Colored bars represent electoral votes by party. Hover to see names. 2020 electoral votes shown in dark green until after the election.