1872 Presidential Election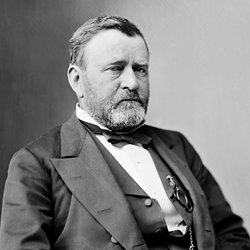 Ulysses S. Grant

Change History!
1872 interactive map
In the United States presidential election of 1872, incumbent President Ulysses S. Grant, leader of the Radical Republicans, was easily elected to a second term in office with Senator Henry Wilson of Massachusetts as his running mate, despite a split within the Republican Party that resulted in a defection of many Liberal Republicans to opponent Horace Greeley. The other major political party, the Democratic Party, also nominated the candidates of the Liberal Republican ticket that year.
On November 29, 1872, after the popular vote but before the Electoral College cast its votes, Greeley died. As a result, electors previously committed to Greeley voted for four different candidates for President, and eight different candidates for Vice President. Greeley himself received three posthumous electoral votes, but these votes were disallowed by Congress. It is so far the only election in which a Presidential candidate died during the electoral process.
Source: Wikipedia
1872 Election Results
| | | Candidate | Party | Electoral Votes | Popular Votes |
| --- | --- | --- | --- | --- | --- |
| ✓ | | Ulysses S. Grant (I) | Republican | 286 | 3,597,132 |
| | | Thomas A. Hendricks | Democratic | 42 | *** |
| | | B. Gratz Brown | Democratic | 18 | *** |
| | | Charles J. Jenkins | Democratic | 2 | *** |
| | | David Davis | Democratic | 1 | *** |
| | | Horace Greeley | Democratic | 0 | 2,834,125 |
| | | Other: See Election Facts Below | | 3 | |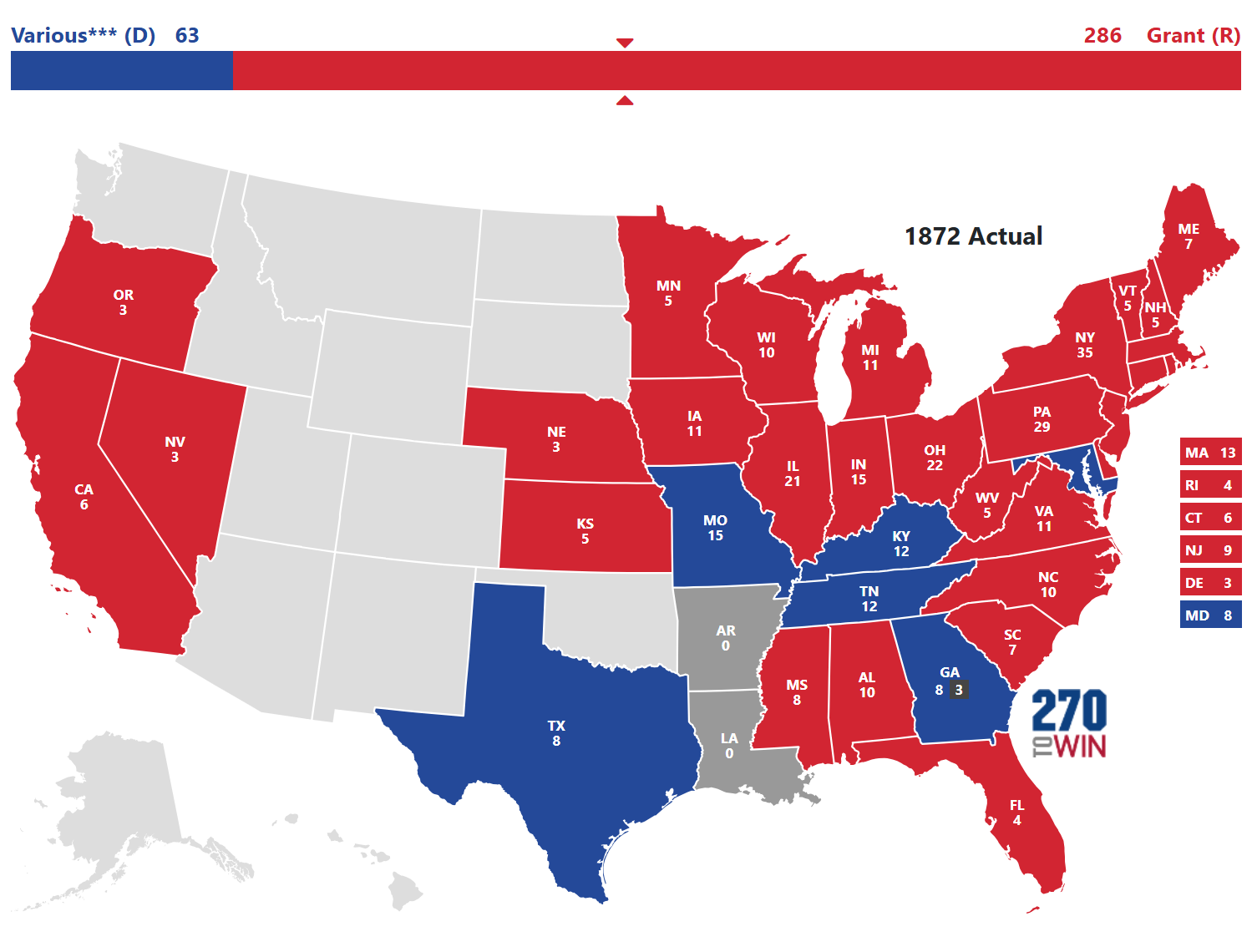 1872 Election Facts
The entire electoral vote of Louisiana (8) and Arkansas (6) was rejected by Congress due to issues related to Reconstruction. Both states had voted for Grant.
*** Democratic nominee Horace Greeley died after the election, but before vote of Electors; most of whom chose other Democrats. The map displays all those electoral votes as if won by a single Democrat.
Three electoral votes from Georgia that were cast for the deceased Greeley were rejected by Congress.
Issues of the Day: Corruption in Federal Government