1852 Presidential Election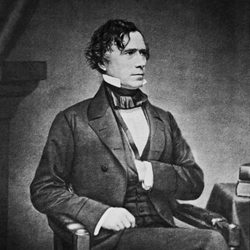 Franklin Pierce

Change History!
1852 interactive map
The United States presidential election of 1852 was in many ways a replay of the election of 1844. Once again, the incumbent President was a Whig who had succeeded to the presidency upon the death of his war hero predecessor; in this case, it was Millard Fillmore who followed General Zachary Taylor. The Whig party passed over the incumbent for nomination — casting aside Fillmore in favor of General Winfield Scott. The Democrats nominated a "dark horse" candidate, this time Franklin Pierce. The Whigs again campaigned on the obscurity of the Democratic candidate, and once again this strategy failed.
Pierce and running mate William King went on to win what was at the time one of the nation's largest electoral victories, trouncing Scott and his vice presidential nominee, William Graham of North Carolina, 254 electoral votes to 42. After the 1852 election the Whig Party quickly collapsed, and the members of the declining party failed to nominate a candidate for the next presidential race; it was soon replaced as the Democratic Party's primary opposition by the new Republican Party.
Source: Wikipedia
1852 Election Results
| | | Candidate | Party | Electoral Votes | Popular Votes |
| --- | --- | --- | --- | --- | --- |
| ✓ | | Franklin Pierce | Democratic | 254 | 1,601,274 |
| | | Winfield Scott | Whig | 42 | 1,386,580 |
| | | John P. Hale | Free Soil | 0 | 155,210 |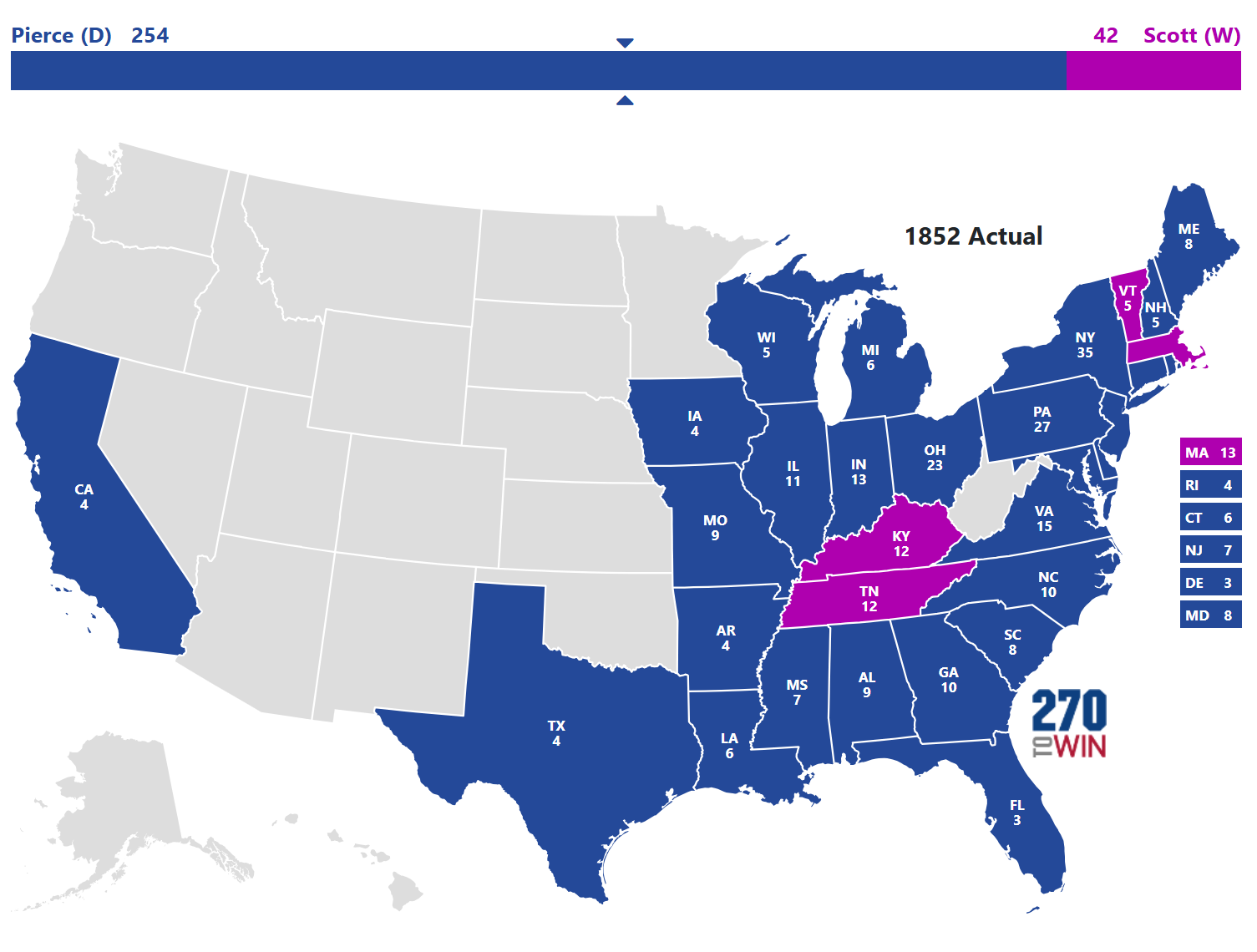 1852 Election Facts
Welcome: California becomes a state during this election cycle
Final Presidential election with a candidate of the Whig party
Issues of the Day: Slavery (Compromise of 1850, Fugitive Slave Act)