1796 Presidential Election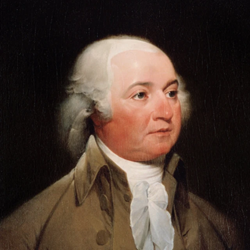 John Adams

Change History!
1796 interactive map
The United States presidential election of 1796 was the first contested American presidential election and the only one to elect a President and Vice President from opposing tickets.
With incumbent President George Washington having refused a third term in office, incumbent Vice President John Adams of Massachusetts was a candidate for the presidency on the Federalist Party ticket with former Governor Thomas Pinckney of South Carolina as the next most popular Federalist. Their opponents were former Secretary of State Thomas Jefferson of Virginia along with Senator Aaron Burr of New York on the Democratic-Republican ticket. At this point, each man from any party ran alone, as the formal position of "running mate" had not yet been established.
Unlike the previous election where the outcome had been a foregone conclusion, Democratic-Republicans campaigned heavily for Jefferson, and Federalists campaigned heavily for Adams. The debate was an acrimonious one, with Federalists tying the Democratic-Republicans to the violence of the French Revolution and the Democratic-Republicans accusing the Federalists of favoring monarchism and aristocracy. In foreign policy, the Democratic-Republicans denounced the Federalists over Jay's Treaty, perceived as too favorable to Britain, while the French ambassador embarrassed the Democratic-Republicans by publicly backing them and attacking the Federalists right before the election.
Although Adams won, Thomas Jefferson received more electoral votes than Pinckney and was elected Vice-President.
Source: Wikipedia
1796 Election Results
| | | Candidate | Party | Electoral Votes |
| --- | --- | --- | --- | --- |
| ✓ | | John Adams | Federalist | 71 |
| | | Thomas Jefferson | Democratic-Republican | 68 |
| | | Thomas Pinckney | Federalist | 59 |
| | | Others | Various | 48 |
| | | Aaron Burr | Democratic-Republican | 30 |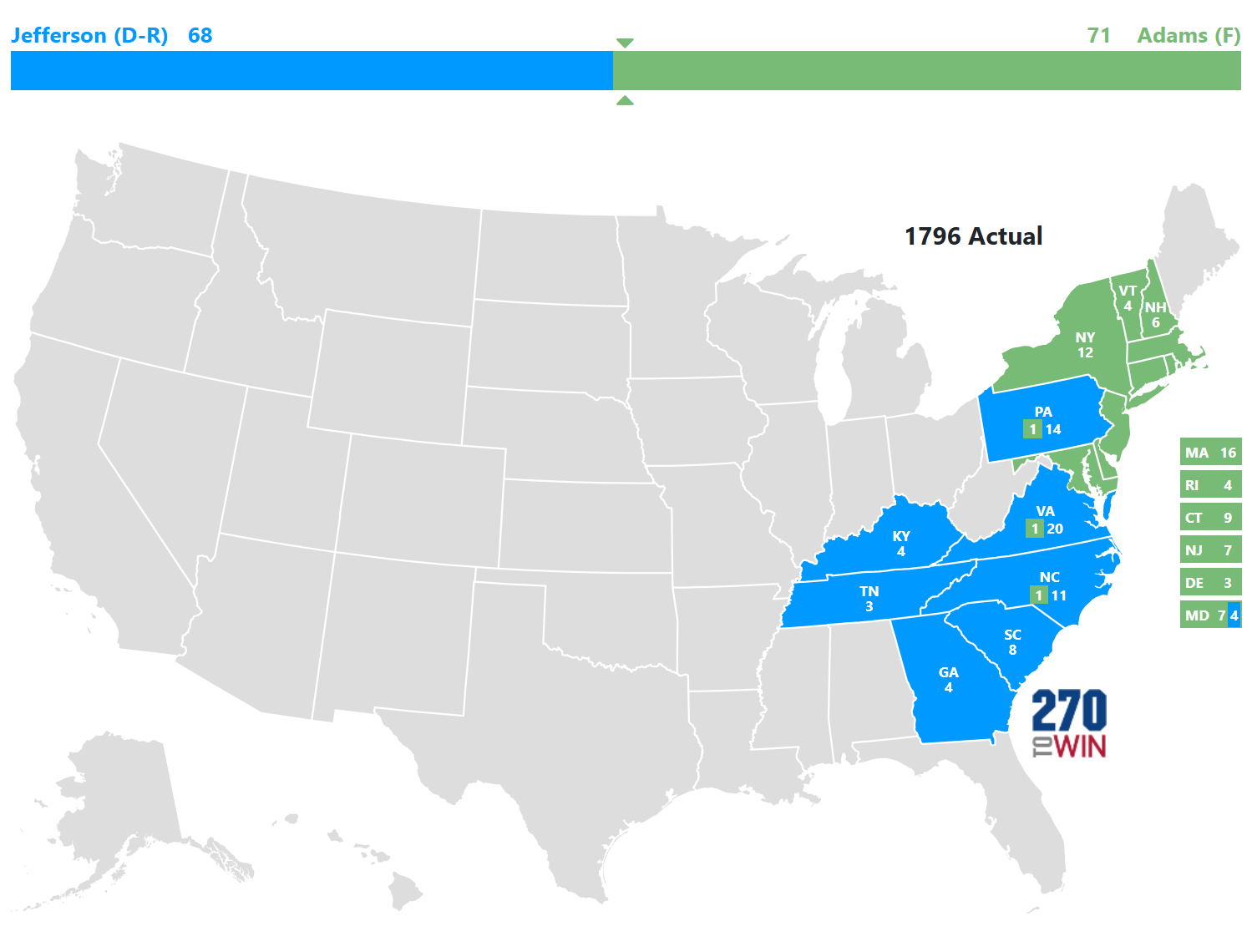 1796 Election Facts
The map above shows the results of the main Federalist candidate (Adams) and the main D-R candidate (Jefferson). Electors had 2 votes each for President, and most voted for both candidates in their party
Under the rules of the day, since Jefferson had 2nd most Electors, he was named Vice-President, despite being a different party than Adams
Democratic-Republicans won North Carolina, Pennsylvania and Virginia, but one Elector in each state cast a vote for Federalist Adams
Maryland electors split their vote, with 7 electors for Adams and 4 for Jefferson
Welcome: Tennessee becomes a state during this election cycle
Issues of the Day: Whiskey Rebellion, Jay's Treaty