2000 Presidential Election
2000 Election Results
| | | | | | | | |
| --- | --- | --- | --- | --- | --- | --- | --- |
| | Candidate | | Party | | Electoral Votes | | Popular Votes |
| | George W. Bush | | Republican | | 271 | | 50,456,062 |
| | Albert Gore, Jr. | | Democratic | | 266 | | 50,996,582 |
The United States presidential election of 2000 was a contest between Republican candidate George W. Bush, then-governor of Texas and son of former president George H. W. Bush (1989–1993), and Democratic candidate Al Gore, then-Vice President.

Bill Clinton, the incumbent President, was vacating the position after serving the maximum two terms allowed by the Twenty-second Amendment. Bush narrowly won the November 7 election, with 271 electoral votes to Gore's 266 (with one elector abstaining in the official tally).

The election was noteworthy for a controversy over the awarding of Florida's 25 electoral votes, the subsequent recount process in that state, and the unusual event of the winning candidate having received fewer popular votes than the runner-up. It was the closest election since 1876 and only the fourth election in which the electoral vote did not reflect the popular vote.1
Change History!
Try out the
2000 interactive map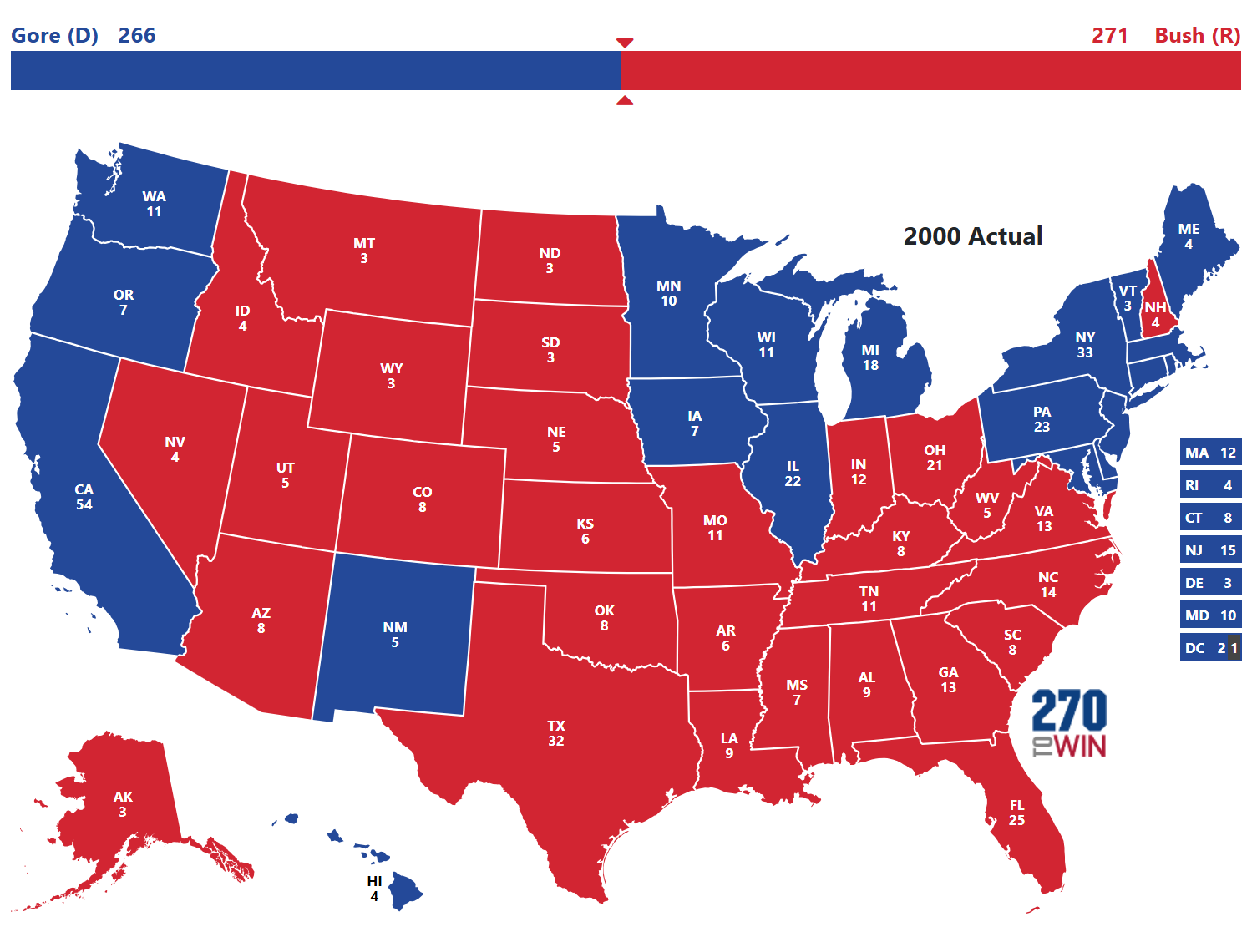 2000 Election Facts
Outcome of race unknown for several weeks due to dispute over close vote totals in Florida
Green Party candidate Ralph Nader received 2,882,728 votes, but no Electoral Votes
Gore won DC; however one Elector did not cast a vote
One of only 4 elections, and first in over 100 years (1824, 1876, 1888, 2000) where the popular vote winner was defeated
Issues of the Day: Impeachment, Presidential ethics, Good economy
Margin of Victory Map
This map is shaded by how large the popular vote difference was between the two nominees. It is a way to view the relative competitiveness of each state. These maps are also available as a timeline for each election from 1972-2012.