Results and Aggregate Party Vote in Competitive California Congressional Districts
By 270toWin Staff
June 6, 2018
Going into yesterday's top-two primary, 11 of California's 53 congressional districts were seen as at least somewhat competitive this fall by Sabato's Crystal Ball. In the California system, all candidates appear on a single ballot, with the top two vote-getters moving on to the general election, regardless of party.
The table below shows the outcome of those primaries. Vote tallies are aggregated from The New York Times results page as of about 9:00AM ET on Wednesday morning, June 6. California can take several weeks to finalize their numbers, so these totals are subject to change.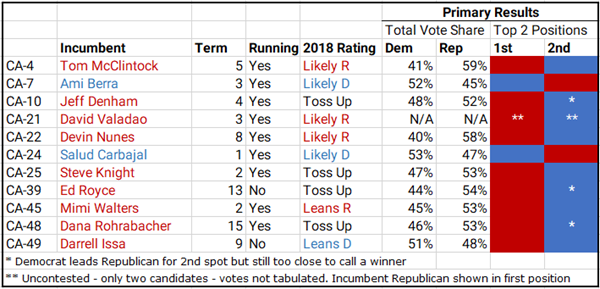 All nine incumbents seeking re-election finished with the most votes* in their respective races.

While some races have yet to be called, it looks like all 11 races will see one Democrat and one Republican move on to November

CA-10 and CA-48 will probably be the closest races in terms of Democrats not making the top-two. CA-10 a bit more unexpected than CA-48.
The aggregate vote is important as it has proven to be a good predictor of the general election. For clarity, the chart shows the total of all Democrats and all Republicans on the ballot
The GOP avoided a top-two shutout in statewide races, as Republican John Cox secured 2nd position, behind Democrat Gavin Newsom, in the gubernatorial primary. Two Democrats will likely move on in the U.S. Senate race, including incumbent Dianne Feinstein. There was concern among Republicans that having no candidates in the statewide races might suppress turnout in November.
The elections for Senate and governor are both seen as safe Democratic in the fall. The aggregate vote Tuesday backs that up. Democrats received 61% of the vote, Republicans 38% in the gubernatorial race. In the Senate race, Democrats received 62%, Republicans 35%.
* Votes were not tabulated in CA-21, as only two candidates were on the ballot
comments powered by

Disqus
Headlines