Democrats Vote in Kentucky and Oregon; Could Be a Close Election in Both States
By 270toWin Staff
May 17, 2016
Oregon voters of both parties will vote Tuesday, while Democrats in Kentucky will also go to the polls. Oregon conducts voting by mail; ballots must be received by 8:00 local time. In Kentucky, polls are open until 6:00 local time. Both states span two time zones, so expect results to be reported after the latest closing times, which will be 7PM Eastern for Kentucky, 11PM Eastern in Oregon.
Delegate Update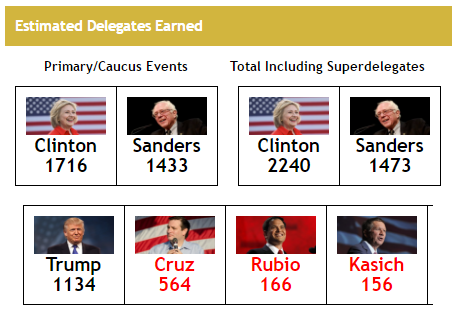 Hillary Clinton starts the day 143 delegates from the 2,383 she needs to clinch the Democratic nomination, while Donald Trump, now the presumptive Republican nominee, needs 103 to officially reach the magic number of 1,237 delegates. Neither can reach the required total today with the pledged delegates available.
Democratic Primaries: There are 61 pledged delegates available in the Democratic Oregon primary. A single poll from last week gabe Clinton a 15 point lead over Bernie Sanders. However, the Vermont Senator has done quite well in other Western states, winning all those in orange in this map: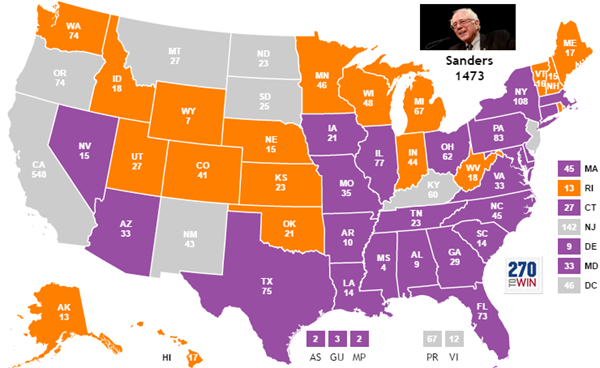 The PredictIt market is pricing Sanders with about an 80% chance of winning, seemingly ignoring the single poll result.
The likely winner is also unclear in Kentucky, where no recent polling has been conducted. While the state should favor Clinton, she was easily beaten by Sanders last week in neighboring West Virginia, a state with many similarities. 55 pledged delegates are available in the Bluegrass State.
As with all Democratic contests, the delegates will be awarded proportionately based partially on the statewide result, partially on the result within each congressional district.
Republican Primaries: 28 delegates are available in the Oregon primary, allocated based on the statewide result. As the presumptive nominee and with the only active campaign, Trump should receive most of these.
comments powered by

Disqus
Headlines