Trump Sweeps Five States, Clinton all but RI; Both Move Closer to Nomination
By 270toWin Staff
April 27, 2016
Donald Trump and Hillary Clinton made substantial progress toward their respective party nominations Tuesday night. Trump won all five primaries, while Clinton won four of five. The delegate counts updated as of 8AM Wednesday: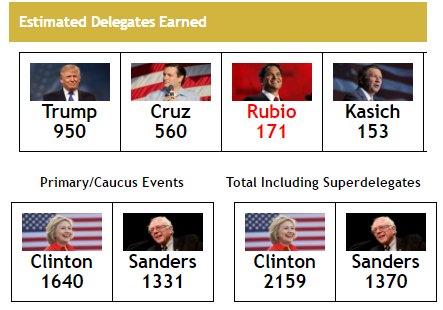 Trump swept to victory in five East Coast states Tuesday, in the process mathematically eliminating Ted Cruz from winning the nomination outside a contested convention. Trump won at least 105 of the day's 118 delegates, and is sitting at 950 as of Wednesday morning. 1,237 are needed to win the nomination.
Trump exceeded polling expectations, easily exceeding 50% in all five states, and surpassing 60% in a couple of them. We've updated the interactive delegate calculator to reflect the results.

Hillary Clinton won all but Rhode Island against Bernie Sanders. When the remaining delegates from Tuesday are allocated, she'll be within about 200 of the 2,383 needed to officially secure the nomination. The Associated Press noted last night that Clinton can lose every remaining primary by a wide margin and still capture her party's nomination. While Sanders vowed to stay in the race, both campaigns have begun a shift in tone that recognizes that she will, in all likelihood, be the party's 2016 nominee.
Electoral Map: For those that think we are heading toward a Clinton vs. Trump election, our electoral map based on polls will let you see how that race is developing. We wouldn't put too much stock in the November polls to this point; however it certainly will be interesting to see how the map evolves if this is the match-up. Both candidates have high unfavorables, while Trump's areas of strength could yield a map quite different than we've grown accustomed to in the last several elections.
comments powered by

Disqus
Headlines