April 20, 2016
Outperforming even the most favorable polls, Donald Trump and Hillary Clinton scored huge victories in Tuesday's New York primary, significantly expanding their delegate leads while reestablising themselves as clear frontrunners to meet in the November general election.
Republican: Earning over 60% of the vote, Trump won at least 89 of the state's 95 delegates. John Kasich finished 2nd, with 3 delegates. As of this morning, 3 delegates remain to be awarded. The win gives Trump an almost 300 delegate lead over Ted Cruz. The Kasich delegates were the first he's earned since winning his home state of Ohio in mid-March. Kasich remains behind Marco Rubio, who has long since departed the race. Trump needs about 53% of the remaining delegates to win the nomination, while the path for Cruz, outside a contested convention, has become nearly mathematically impossible.
Looking ahead, the calendar remains quite favorable for Trump. 172 delegates will be up for grabs in 5 Eastern states next Tuesday. Trump leads where polling is available, with averages north of 40%.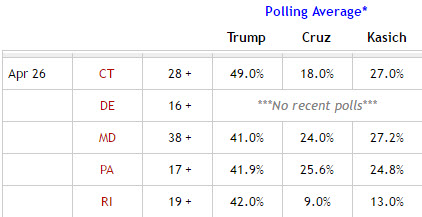 Pennsylvania has 54 additional delegates not shown on the above chart. These will be elected directly and are unbound, although they can make their leanings known in advance.
Democrat: Clinton also outperformed the polls, beating Sanders by 16 points. The win gave her 135 delegates while Sanders picked up 104. Eight delegates remain to be awarded. While proportional allocation gave Clinton only 30 more delegates than Sanders, a large number of delegates are now off the table, which makes the math increasingly difficult for Sanders. Clinton is now within 500 delegates of clinching the nomination; she needs about 29% of the remaining delegates. Next Tuesday offers five contests, with just under 400 pledged delegates, including almost 200 pledged delegates alone in Pennsylvania (210 including superdelegates). We'd expect Clinton to have over 2,100 delegates by the completion of these contests.
comments powered by

Disqus
Headlines