Wisconsin Primary Tomorrow: Polling and Delegate Update
By 270toWin Staff
April 4, 2016
Tuesday's Wisconsin primary will break a lull in the election calendar. Polls are open from 7AM to 8PM Central Time.
Republican: The state's 42 delegates will be allocated on a split winner take all basis. 18 delegates will go to the overall popular vote winner in the state, while the remaining 24 will be allocated, in groups of three, to the winner of each of Wisconsin's eight congressional districts.
Polling over the past couple weeks has trended in the direction of Ted Cruz. The Texas Senator has led 8 of the ten polls since March 20 and now averages a 3.1% lead over Donald Trump. The average is closer than most recent polls would indicate, as a survey out today showed Trump with a ten point lead. While there is certainly some possibility Trump wins the state, that poll seems like an outlier.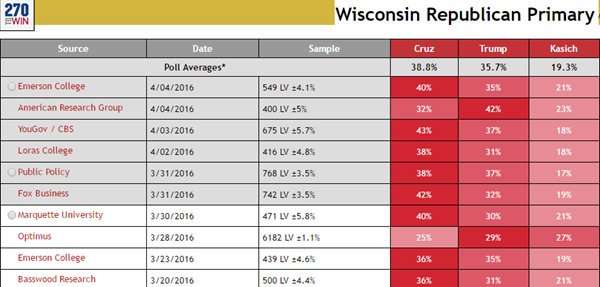 Heading into Wisconsin, Donald Trump leads the Republican field with 736 delegates. He needs about 53% of the remaining delegates available to win the Republican nomination.
Democrat: 86 of the state's 96 delegates will be up for grabs tomorrow; the remainder are superdelegates. As with other Democratic contests, delegates are awarded proportionately, some based on the statewide popular vote, the remainder based on the results in each individual district.
Bernie Sanders is on a bit of a run, having won five of the last six Democratic contests. However, those were all caucuses in states with favorable demographics for him. Sanders hasn't won a primary since March 8, when he won neighboring Michigan. Looking at the polls, this primary could go either way. Sanders is averaging about 2.5% ahead of Clinton; each candidate has led in multiple polls over the past week.

Hillary Clinton has a lead of 260 delegates over Sanders in primary/caucus events, that lead grows to 700 when superdelegates are factored in. Factoring in superdelegates, Clinton needs about 33% of the remaining delegates to clinch the nomination.
comments powered by

Disqus
Headlines